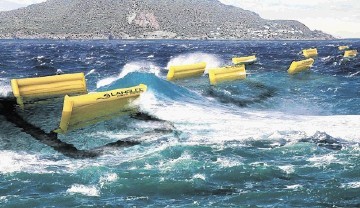 An ambitious £10million plan set up set up seven years ago to make Scotland a world leader in wind and tidal power should be scrapped, according to critics.
The Saltire Prize, led by Gordon MP and former First Minister Alex Salmond, has come into difficulty after it was revealed none of the competitors would be able to meet the criteria for the 2017 deadline.
According to reports in the Herald Scottish Conservative MSP Murdo Fraser said the ambitious prize had become a "white elephant".
He called for the money to be put to better use elsewhere by the Scottish Government.
New rules which would make the prize "more winnable" are not expected to be drawn up until next year – which would be just months before the end of the contest.
Last month, one of the four remaining competitors called in adminstrators.
Scottish Renewables have defended the prize and said it would help drive innovation in the offshore renewables industry.
The prize was to be awarded to the company which generated the most electricity above a minimum threshold of 100 gigawatt hours.
The power had to be generated over a continuous two-year period within the challenge period running from June 2012 to June 2017.
However MeyGen, which was seen as the frontrunner, has yet to generate any power at all.
The company is installing underwater turbines in the Pentland Firth and is still constructing onshore facilities.
It will only begin generating power next year.