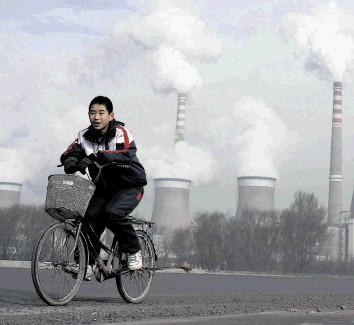 This year is very likely to be the hottest year on record worldwide, the World Meteorological Organisation has said.
Man-made global warming and a strong "El Nino" phenomenon in the Pacific, which pushes up temperatures, mean 2015 has had the hottest January to October on record, with temperatures 1C above pre-industrial levels, preliminary estimates show.
The years 2011 to 2015 have been the warmest five-year period on record, with extreme events such as heatwaves influenced by climate change, the UN's weather, water and climate body said.
The WMO analysis of 2015, based on three independent datasets including one from the Met Office and University of East Anglia's Climatic Research Unit, is released ahead of crucial climate talks in Paris to secure a new deal to curb rising temperatures.
WMO secretary-general Michel Jarraud said: "The state of the global climate in 2015 will make history for a number of reasons.
"Levels of greenhouse gases in the atmosphere reached new highs and in the northern hemisphere spring 2015 the three-month global average concentration of CO2 crossed the 400 parts per million barrier for the first time.
"2015 is likely to be the hottest year on record, with ocean surface temperatures at the highest level since measurements began. It is probable that the 1C threshold will be crossed. This is all bad news for the planet.
"Greenhouse gas emissions, which are causing climate change, can be controlled. We have the knowledge and the tools to act. We have a choice. Future generations will not."
Global sea surface temperatures are likely to equal or surpass the record they set last year, while 2015 is also set to be one of the warmest years ever recorded over land.
South America and Asia are having their hottest years on record, while Africa and Europe are experiencing their second hottest year.
Global sea levels in the first half of 2015 were at their highest level since satellite observations became available in 1993, while record ocean temperatures have led to a global coral bleaching event.
Many extreme events seen in the 2011-2015 period, in particular heatwaves and unusually hot summers or years, have become more likely because of human-induced climate change, scientific assessments show.
Such events included hot summers in western Europe in 2013 and record annual warmth across Europe in 2014.
Dr Ed Hawkins, climate scientist at the National Centre for Atmospheric Science (NCAS), University of Reading, said: "Not only is 2015 going to be the warmest year on record, but analysis by climate scientists shows that the vast majority of this extra heat is as a result of human activity emitting greenhouse gases."
He said roughly 95% of the 1.05C above pre-industrial temperatures that the world is expected to be in 2015 was due to human activity.
He added: "While 2015 will not break 2014's record as the hottest year in the UK, we know that over longer timescales Britain is warming up 20% faster than the global average.
"Land areas warm faster than the oceans, which means that many regions on land worldwide, and where most people live, passed the one-degree threshold years ago, and are continuing to heat up faster than the global average."
Recommended for you

Shell sets new record as annual profits more than double to $40bn