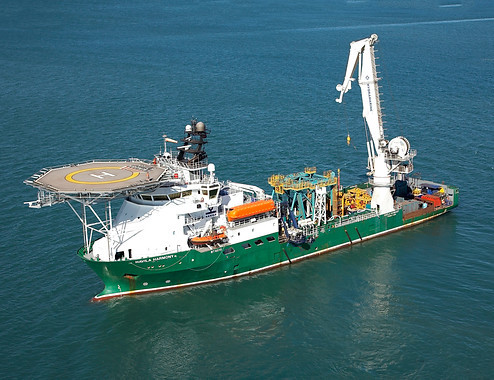 Fugro is providing an additional vessel, the Havila Harmony, to join the search for the missing flight MH370 in the southern Indian Ocean.
The 93-metre multi-role vessel will allow Fugro to deploy the Echo Surveyor VII autonomous underwater vehicle (AUV) in a bid to locate the ill-fated Malaysian Airlines Boeing 777, which disappeared in March 2014 while flying from Kuala Lumpur to Beijing with 239 people on board.
The Harmony, under long-term charter to Fugro, will provide a stable platform for operations in the vast expanse of the Indian Ocean.
Fugro said the Echo Surveyor VII was used earlier this year in search operations but was withdrawn when sea conditions deteriorated beyond limitations for the safe launch and recovery of the AUV.
The state-of-the-art AUV will again be used to scan the most difficult portions of the search area that cannot be searched as effectively by the deep tow systems on the other search vessels.
The deepwater system is a Hugin 1000, specifically designed for high resolution and efficient survey operations in water depths to 4,500 metres.
With a 75kHz side scan sonar and a dual-head Kongsberg 2040 multibeam echosounder, its configuration is the same as the systems deployed from the other vessels in the search, the Fugro Discovery and Fugro Equator.
The AUV is also equipped with an underwater camera.
After calibration trials off the coast of Fremantle, Havila Harmony and her international crew of 40 will head to the search area where she is expected to begin search operations on December 3.
Despite a massive search, the only trace of the doomed flight has been a flaperon from the plane's wing, found washed ashore on Reunion Island in July this year.
Find out more about Fugro's search project here: