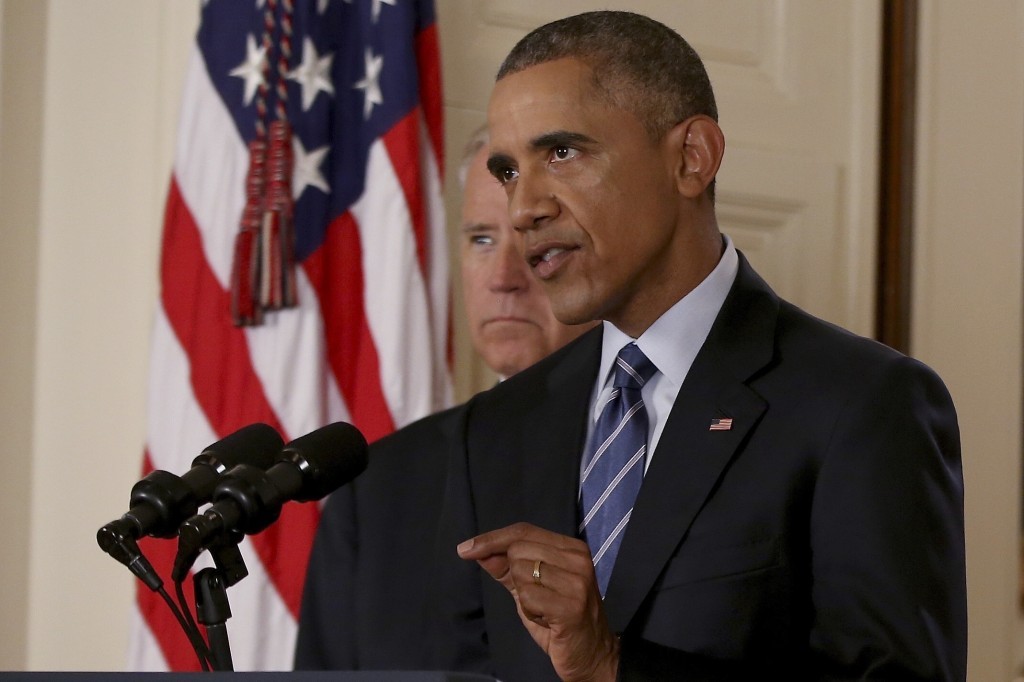 US president Barack Obama has said the emerging global climate agreement must have transparency provisions and periodic reviews of carbon-cutting targets that are legally binding.
Mr Obama is commenting on the legal framework for the agreement during a meeting with leaders of island nations hit hard by climate change.
He said the specific targets each country is setting to reduce greenhouse gas emissions may not have the force of treaties. But he said to hold each other accountable, it is critical that "periodic reviews" be legally binding.
He is referring to a mechanism sought by negotiators under which countries would ratchet up their commitments every five years.
Whether the climate deal should be legally binding has been a major sticking point in the talks, in large part due to the US.
Mr Obama would face dim odds at getting the Republican-run Congress to vote to approve a new climate treaty. That set off a search for a compromise where parts of the deal are binding and others are not, sparing the need for a new vote in Congress.
He added that without ambitious action on climate change, people may be forced to flee island nations and will become refugees.
Presidents and prime ministers from Kiribati, the Marshall Islands, St Lucia, Barbados and Papua New Guinea are attending the meeting with Mr Obama.
Mr Obama said those countries are not the most populous or influential, but that their populations are "among the most vulnerable to the ravages of climate change."
Meanwhile, France has promised eight billion euro (£5.62 billion) over the next five years for investment in renewable energy in Africa.
President Francois Hollande's pledge on Tuesday came in a meeting with 12 African leaders about the threats from climate change, including coastal erosion, advancing deserts and rivers that are drying up.
"When a young student is forced to go study under a street lamp at night, it clearly demonstrates the electricity issue," Malian president Ibrahim Boubacar Keita said.
Mr Hollande said: "The world, and in particular the developed world, owes the African continent an environmental debt."
The meeting also focused on financing for an African Union initiative known as the Great Green Wall, launched in 2007 to gather 11 countries to plant trees to combat the encroaching Sahara Desert and help people adapt to climate change.
The Prince of Wales, South American indigenous leaders and other dignitaries are holding a special meeting on Tuesday to call attention to shrinking global forests from South America to Russia and Africa.
Peru's environment minister Manuel Pulgar-Vidal said ahead of the meeting that companies too need to do their part to limit deforestation. Envoys are urging greater efforts against illegal logging.
The world's forests play an important role in absorbing carbon dioxide released by man-made emissions from burning oil, gas and coal.
Mr Hollande hosted Mr Obama and 149 other world dignitaries on Monday to kick off two weeks of UN-led climate talks outside Paris.
The leaders agreed that something must be done to protect the planet for future generations, but now must overcome disagreements over who should shoulder the economic responsibility for cutting emissions and protecting countries already hit by climate change.
Recommended for you

'Worrying signs' lockdown emissions reductions could be brief, says BP boss