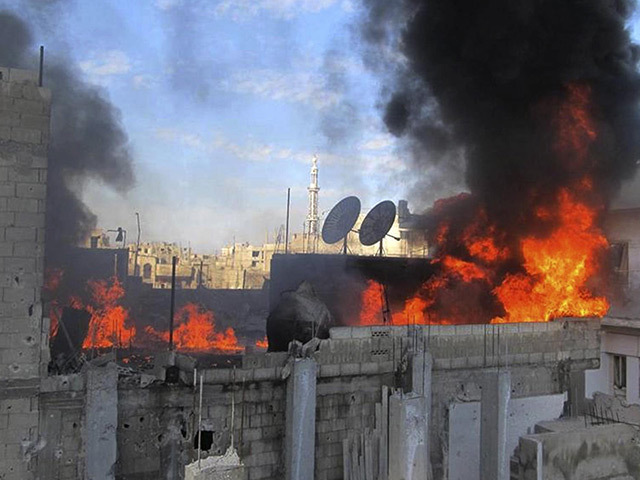 The bombing of oil fields in Syria robs civilians of the infrastructure they depend upon in their day-to-day lives and will further alienate the local people from the Western cause, experts on the Middle East have warned.
Four British Tornado jets hit seven targets in eastern Syrian oil fields after MPs voted in favour of air strikes on Wednesday night – and defence secretary Michael Fallon said the overnight bombing had "dealt a real blow" to the Isis-controlled areas.
Experts have also said oil has become a less important source of revenue for Isis, which gets most of its income from taxing local people in its controlled areas.
But while these attacks may still impact upon the terror group's financial power, there has been little consideration for the civilians who rely on the oil in these regions, according to Tim Eaton, a Middle East analyst and the project manager for Chatham House's Syria and Its Neighbours Policy Initiative.
"What happens a lot of the time is that we are presented with this premise that bombing terrorists is a good thing to do and that we oppose Isis and that there may be some civilian casualties which are unfortunate collateral in those strikes," he said.
"What we often do not consider is that even soft targets such as oil infrastructure and the infrastructure targets that the defence secretary was talking about today in IS-controlled areas are also the infrastructure that the civilians in those areas rely upon.
"Taking out oil at the well-head means that while Isis is unable to generate profit from the sale of that oil, civilians that rely on it to heat their homes and run their vehicles will no longer have it."
Striking Syria at the oil wells could prove disastrous in winning the Syrian people over to the Western cause, Mr Eaton said.
"When we think about defeating Isis in the long term, we have to understand that it is about winning over those people. In this sense, air strikes also hurt those people as well as Isis.
"It sounds great to degrade Isis's finances and tackle them that way. It sounds like a humane way of tackling them and limiting Isis's impact. But it is impossible to completely disassociate that impact on Isis from the impact on the people in the areas that they govern.
"We have seen in places like Gaza previously where sanctions have been applied on groups that are controlling areas that it does not necessarily mean that it will decrease their popularity. Often it can increase their popularity and fuel their narrative of being targeted and unfairly treated and that is also a risk with Isis."
David Butter, an expert in politics and the economy in Syria, said there is a difference between striking existing oil well-heads and Isis-built improvised refineries.
He said: "A year ago, the United States thought it could disrupt Isis oil operations by focusing on the improvised refineries. But in October they decided to get a little more intensive and started attacking well-heads, which are in a sense part of Syria's national infrastructure."
"Syria's national government issued a statement complaining about the attacks on these facilities.
"The bottom line is that people in Syria need diesel for operating their farm machinery and heating their homes.
"Possibly the people who are most vulnerable to these strikes are the anti-Assad regime rebels."
Mr Butter said oil sales make up roughly a quarter of Isis's total income in some areas, but insists that the monetary value of the oil trade to the terrorist group remains arguable.
"From what I know about the fields where they are present, they would be in a position to produce 30,000 to 40,000 oil barrels a day at most," he said.
"The oil fields where they operate are in steep decline and are complicated to operate.
"You are talking about really very small amounts of oil which gets distributed in ever-smaller parcels."
Much of the terrorist group's income comes from what they refer to as "confiscation and fees", or taxes on people living within Isis-controlled areas, Mr Butter said.
It remains unclear who is buying the oil from Isis, with Russia claiming that Turkey is the biggest buyer of smuggled oil from Iraq and Syria, which is believed to be taken out of the country by middle-men. Turkey's President Recep Tayyip Erdogan has dismissed those claims as "slander".
Recommended for you

Yemen's Houthis strike Saudi military base and Aramco oil depot