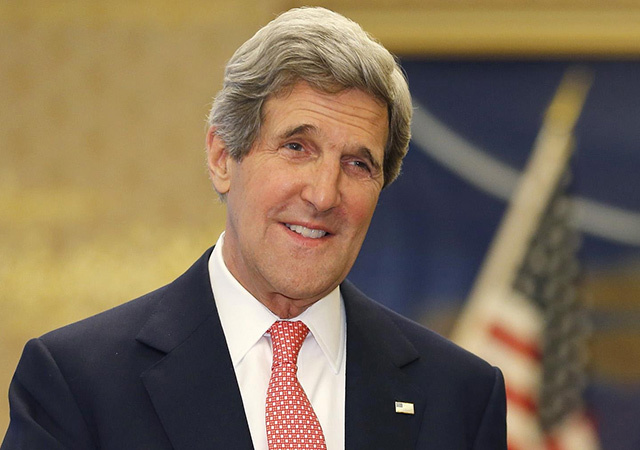 The United States is part of the "high ambition coalition" of countries calling for a strong deal on tackling climate change, US Secretary of State John Kerry has said.
Ministers from 195 countries are at a United Nations climate summit in Paris, which aims to secure a new deal to curb global temperature rises and prevent dangerous climate change.
In a speech at the conference, Mr Kerry said the situation and the moment demanded countries did not leave Paris without an ambitious and durable global climate agreement.
"We need an agreement that is as ambitious as possible," he said adding that the US was "part of what we are calling the high ambition coalition".
"Unless the global community takes bold steps now to transition away from high carbon… we are facing unthinkable harm to habitats, infrastructure, food production, water supplies and potentially to life itself," he warned.
His comments come after the European Union and 79 African, Caribbean and Pacific (ACP) states announced they want to see a legally binding, ambitious and fair deal that sets out a long-term goal to tackle climate change which matches the science.
The EU and the developing countries, who account for more than half the countries at the talks, are backing a five-yearly review system which would see nations look at their pledges on cutting emissions and tackling climate change – and enhance the action they are taking where appropriate.
Making sure ambition can be raised is key to achieving a 2C limit to global temperature rises – beyond which "dangerous" climate change is expected – or the more stringent 1.5C many countries have backed.
This is because the current pledges by countries for climate action they will take up to 2030 will only put the world on a path to almost 3C.
Mr Kerry also called for a review and ratchet system in the deal to increase emissions cuts by countries over time, saying: "It has to be an agreement that endures, it must get stronger over time.
"We didn't come to Paris to build a ceiling that contains all that we ever hope to do. We came to Paris to build a floor on which we can and must altogether continue to build."
A new "cleaner" version of the text of the draft agreement was due to be presented at lunchtime, but was delayed by several hours.
Earlier, the president of the talks, French foreign minister Laurent Fabius, said he hoped a significant number of square brackets – which denote areas of disagreement – would be removed. The last version of the text had 939 brackets.
But Mr Fabius acknowledged: "A number of political issues will require broader discussion to ensure a coherent result."
The French organisers of the conference are still insisting that agreement will be achieved by the official end of the talks on Friday afternoon, but experience from previous climate negotiations suggests it will run well into the weekend.