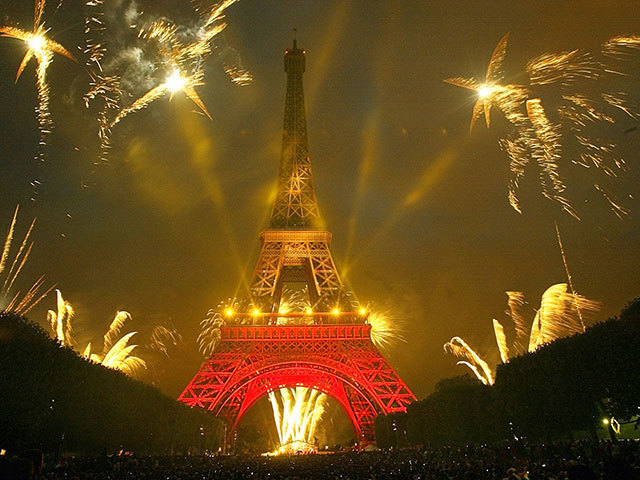 They are still handing out free apples and chocolate bars at the entrance to the Paris climate talks and a waterfall on the Indian stand spells out messages such as "climate justice".
But after the fanfare of 150 world leaders all coming to the summit on the first day, a stream of announcements on climate funding, low-carbon technology and saving forests, and Sean Paul performing Love Song to the Earth, there is something of an end of term feeling here.
Charities and lobby groups have started dismantling their stands, while the twinkling mini Eiffel Tower made of chairs has been draped in loo rolls and plastered with signs calling for 100% renewable energy and warning "we'll need to be a cactus to survive".
School's not quite out yet, though, and the final bell – or the gavel coming down on the international climate agreement they are negotiating here – is now not expected until Saturday at the earliest.
While the cavernous halls and and walkways of Le Bourget conference site have a sense of quiet expectation, behind closed doors they are still hard at the negotiations to resolve the key political differences.
It is easy to spot the ministers and negotiators: they have something of a zombie look about them, which is not surprising as they are pulling close to all-nighters every night to get the work done. The UK delegation has even been supplied with sleeping bags.
The French hosts of the talks have driven them along on a strict timetable, with timings only starting to slip for the first time on the penultimate day of the conference.
Things always slow up at the sharp end of these climate negotiations and there is still a sense of optimism, even if people are describing as "creeping" or "cautious", that maybe, just maybe, after 20 years the world may finally get a comprehensive agreement to tackle global warming.
Whether it will be strong enough to send the necessary signal to business to switch the world towards a low carbon economy, whether there's devil in the detail of the text and if it will protect the planet and particularly the most vulnerable communities and countries remains to be seen.
Outside, Greenpeace's giant puppet polar bear Aurora roars to remind ministers that climate change affects everyone.
Inside, everyone waits.