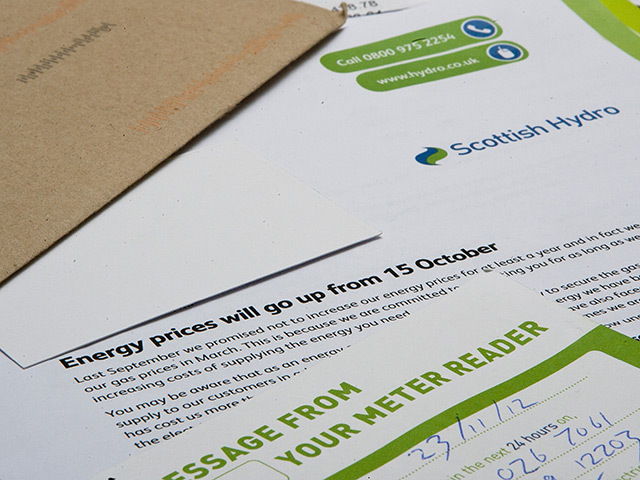 Campaigners have called for significant investment in energy-efficiency measures after new figures revealed almost no change in fuel poverty levels last year.
Almost 35% of households were classed as living in fuel poverty in 2014, compared with revised estimates of 35.8% in 2013.
About 9.5% were living in extreme fuel poverty in 2014 compared with 9.8% in 2013.
Charities and organisations said the Scottish Government's draft budget, to be published on Wednesday, must include greater investment to make progress on reducing the figure.
They said it is highly unlikely the Government's target to eradicate fuel poverty in Scotland, as far as is reasonably practicable, by November 2016 will now be met.
A household is defined as being in fuel poverty if, in order to maintain satisfactory heating, it would be required to spend more than 10% of its income on all fuel use.
The figures, published in the Scottish House Condition Survey (SHCS), also revealed the proportion of social-housing dwellings which did not meet the Scottish Housing Quality Standard (SHQS) in 2014 was 45%, compared with 43% the previous year.
John Dickie, director of the Child Poverty Action Group (CPAG) in Scotland, said: "It is clearly unacceptable that today, in a modern Scotland, so many children are growing up in fuel poverty.
"Against a backdrop of family incomes put under increasing pressure by the political choices of the UK Government, the additional burden of a difficult-to-heat home is an unnecessary one.
"With a target of eradicating fuel poverty less than a year away, the Scottish Government should use their budget to invest in a long-term plan for ridding Scotland of cold homes."
The Scottish Federation of Housing Associations (SFHA) agreed that the Government must make a start on delivering its pledge to make energy efficiency a national infrastructure priority.
Chief executive Mary Taylor said: "Research shows that investing in energy-efficient homes is one of the most cost-effective ways to boost the economy as it delivers a high number of jobs and training places as well as cutting fuel poverty and reducing the carbon emissions that cause climate change."
Ashley Campbell, of the Chartered Institute of Housing Scotland, said: "These survey results make it clear that we must do more to tackle the scourge of fuel poverty by investing in housing across tenures, supporting private landlords and homeowners to invest in their properties and making sure people have the information and advice they need to make positive choices about their energy use."
Housing minister Margaret Burgess said the Government had put in place a number of measures to support those most in need.
She said: "Important drivers of fuel poverty are outwith the control of the Scottish Government but we are determined to do all we can to tackle it.
"In September, we launched our new fuel poverty scheme, which aims to help up to 28,000 more households stay warm over the next seven years.
"The Warmer Homes Scotland scheme is worth up to £224 million and aims to help vulnerable or fuel poor households heat their homes with heating and insulation measures."
Recommended for you

Video: Aberdonians voice opinions on future of oil and gas