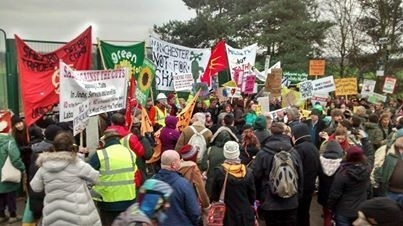 The Government is expected to announce key decisions on solar power and fracking, amid warnings ministers are "unravelling" policies on clean energy.
The latest round of licences for shale gas exploration are set to be unveiled, in the wake of a vote by MPs to allow controversial fracking for the fossil fuel under national parks and other protected areas.
And a final decision will be made on cuts to small-scale renewables subsidies after ministers proposed dramatic reductions of 87% for domestic solar schemes.
Ministers say subsidies for small-scale projects such as solar panel arrays on the roofs of homes, schools and community buildings must be cut to keep down household energy bills.
But the solar industry has warned 27,000 jobs and £127 million in investment would be put in jeopardy by the move.
The move comes after the UN climate summit in Paris agreed a global pact to fight climate change, setting out a long-term goal to limit temperature rises to "well below" 2C above pre-industrial levels.
Ahead of the announcement, shadow energy secretary Lisa Nandy said: "We've just had Paris, this incredible, historic agreement from over 190 countries around the world to work towards a cleaner, greener, more sustainable economy.
"And at the very same time, the Government is unravelling all of the schemes that will help to make that a reality in the UK."
Environmental groups are also concerned about the Government's push for shale, which is set to see scores of new areas up for fracking in the latest awarding of licences for oil and gas exploration.
They have raised fears over the impact on the environment after MPs approved rules to allow fracking under national parks, world heritage sites, and other protected areas – as well as some groundwater areas.
The Government has said it is going "all out for shale" and insisted gas can be a bridge to a low carbon future – despite being a carbon emissions-producing fossil fuel – as it is cleaner than coal.
But Lord Chris Smith, chairman of the industry-backed task force on shale gas, has warned there is no medium to long term future for gas without technology to capture and permanently store its emissions.
He labelled the Government's decision to scrap a £1 billion project to develop carbon capture and storage technology as "absurd".
Recommended for you

Army's first solar farm hailed as 'key milestone in go-green agenda'