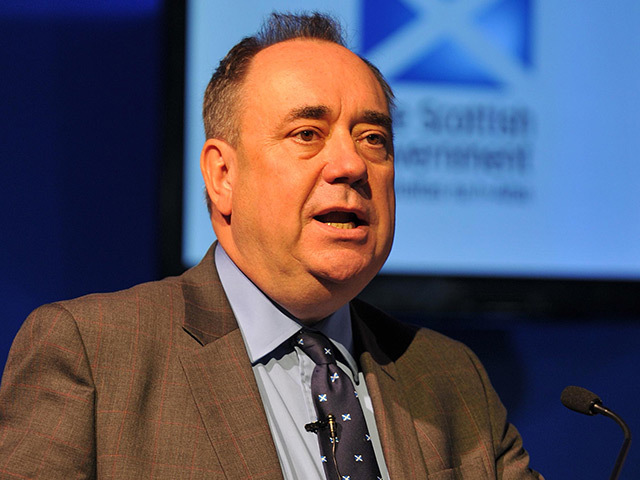 Former first minister Alex Salmond unleashed a scathing attack on "three-time loser" Donald Trump last night, accusing him of damaging the Scottish economy.
The Gordon MP condemned his "treatment of Scotland", which he said would prompt Scottish Americans to join the "ever-growing list of people alienated" by the businessman.
The Trump Organisation was quick to retaliate, branding Mr Salmond a "has-been and totally irrelevant".
"Does anyone care what this man thinks?" the company asked in a statement.
Mr Salmond hit out after judges rejected Mr Trump's latest appeal against the Scottish Government's approval of plans for an offshore windfarm at Aberdeen Bay.
As the Supreme Court ruling emerged, the ex-SNP leader immediately went on the offensive, calling Mr Trump a "three-time loser".
He said the tycoon had "at best postponed and at worst jeopardised" a £200million boost for the north-east economy.
He also argued that Mr Trump's Menie leisure complex had failed to live up to expectation, hailing the "fine" golf course, but questioning the claims of a "permanent clubhouse", the "thousands of jobs" and "billions of investment".
And he warned the Open Championship would never go near Trump's Turnberry course in Ayrshire while he is in charge.
Mr Salmond went on: "The offshore project could have been built by now, with Aberdeen benefiting from becoming the offshore wind research centre of Europe, a vital development at a time of rock bottom oil prices.
"This delay in the offshore wind demonstrator is deeply damaging to Scotland's hopes of being on the cutting edge of that new technology.
"It would have been great for the north-east to have that new string to our bow at this time of low oil prices. Trump has delayed that opportunity."
In response, a Trump Organisation spokesman said: "The fact that he doesn't even know what's going on in his own constituency says it all.
"We have a permanent clubhouse and the business is flourishing.
"He should go back to doing what he does best, unveiling pompous portraits of himself that pander to his already overinflated ego."
Recommended for you

MSPs clash over jobs analysis in just transition plans