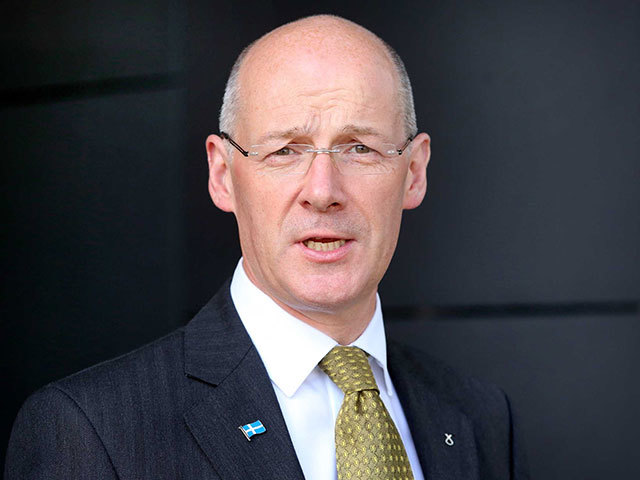 Scotland's economy grew by just 0.1% in the third quarter of last year, new figures have revealed.
Deputy First Minister John Swinney said the latest GDP data showed output had increased between July and September despite the "significant challenge" to key export markets.
Over the year, Scottish GDP increased by 1.7% – but its growth was weaker than that for the UK as a whole, where increases of 0.4% and 2.1% were recorded over three and 12 months respectively.
The service sector, which makes up almost three-quarters of Scotland's economy, grew by 0.3% in the third quarter of 2015.
The Scottish Government figures showed output in the production sector contracted by 1% – with this including a 3.7% drop for the electricity and gas supply sector.
Mr Swinney said the data showed "further growth in the Scottish economy during a period of significant challenge for our key export markets and in particular for the energy sector in
Scotland".
He added: "It is encouraging that growth has remained positive given these strong economic headwinds and, in particular, that the service sector which accounts for around three-quarters of the output of the economy has continued to grow by 0.3% over the quarter.
"This, in part, has been driven by strong growth in the accommodation and food, and retail and wholesale subsectors."
A rise of 0.9% in the construction sector over the three months "continues to show the benefits of the Scottish Government's decision to invest in Scotland's infrastructure, with key projects
such as the Queensferry Crossing helping to underpin growth," Mr Swinney added.
He stressed the "Scottish economy, like that of the UK, is continuing to feel the effect of significant challenges such as a slowdown in global demand – a situation exacerbated by the continuing low price of oil and the effect this is having on the industry and its supply chain".
The Scottish Government set up a taskforce to help the North Sea and Mr Swinney said: "We recognise that this remains a difficult time for that sector and those who work in it, and we will provide all possible support."
Scotland Office Minister Andrew Dunlop said he was "very pleased that the latest figures show that Scotland's economy has grown continuously for three years".
Lord Dunlop added: "There is no room for complacency. As the Chancellor made clear last week, there are a number of significant risks to our economy in 2016, including a slowdown in emerging markets and global economic growth.
"The UK Government has a long-term economic plan to strengthen Scotland's economy, to continue to deliver growth at home and protect our economy from risks abroad.
"We will continue to work with Scottish businesses to support growth and help Scotland prosper – including through our highly-competitive corporate tax system and continuing to develop
initiatives like city deals.
"The Scottish Government also needs to do all it can to support businesses, including through education, training and business rates."