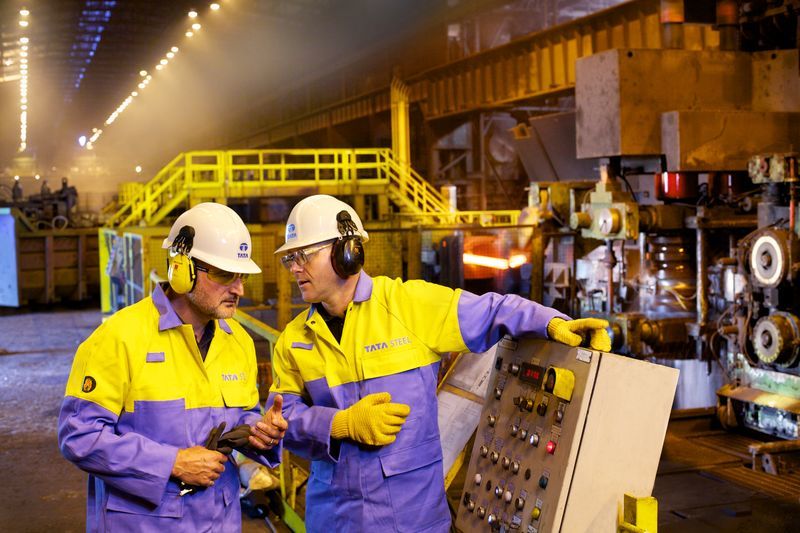 The steel industry has been dealt another huge blow after Tata confirmed that more than 1,000 jobs are to be axed.
Most of the jobs will go at the huge plant in Port Talbot, south Wales, where 750 posts will be cut.
But other factories will also be hit, with 200 in support functions and 100 at steel mills, affecting Llanwern, Trostre, Corby and Hartlepool.
Karl Koehler, chief executive of Tata Steel's European operations, said: "I know this news will be unsettling for all those affected, but these tough actions are critical in the face of extremely difficult market conditions which are expected to continue for the foreseeable future.
"We need the European Commission to accelerate its response to unfairly traded imports and increase the robustness of its actions. Not doing so threatens the future of the entire European steel industry.
"And while we welcome progress on UK energy costs, the Government must take urgent action to increase the competitiveness of the UK for its vital steel sector. This includes lowering business rates and supporting energy efficiency and anti-dumping cases so we can compete fairly.
"Tata Steel has been a hugely supportive investor, and has invested £1.5 billion in its UK operations. We now need all stakeholders to do their utmost to meet the unprecedented challenges the steel sector is facing."
The Government was accused of "fast talking but slow delivery" by unions, which said the latest news was devastating for local communities.
The Community union said it will "vigorously" challenge the company's proposals.
General secretary Roy Rickhuss said: "Today's announcement is no reflection of the skills and commitment of the Tata Steel workforce, which has been breaking production records over the past year.
"Rather, it is yet another chapter of the UK's ongoing steel crisis and the lack of a proper Government response.
"The dumping of cheap Chinese steel is one of the biggest causes of this crisis, yet the UK Government remains a cheerleader for China and their bid for 'market economy status', which would decimate what is left of our steel industry. This cannot be allowed to happen.
"As well as Government support, it is absolutely vital that Tata Steel make clear their long-term commitment to steel-making in the UK. The workforce has made significant sacrifices in recent years, on the assurance that jobs would be protected.
"However, rather than delivering on this promise, Tata have simply continued to slash jobs. Tata Steel must now come clean about their long-term commitment to the UK. Community, as the steelworkers' union, stands ready to play our part in securing a future for the industry."
Alan Coombs, a Port Talbot steelworker and president of Community, said: "Today's news is a tragic reminder of the UK's ongoing steel crisis. Here in Port Talbot we make some of the world's best steel, but cheap Chinese imports and high energy costs are crippling our industry."
Gareth Stace, director of trade body UK Steel, said: "This is deeply disappointing news and I am very concerned about the future of the plant and community. This is a site of critical importance to our national industrial infrastructure.
"The Government's review of business rates could significantly reduce the multi-million-pound bill the plant has to pay while ministers should also consider offering grants that would help the site improve its long term sustainability. The Government needs to be creative, co-operative and fleet of foot to make sure every possible option for support is considered."
For more on Tata Steel click here.
Recommended for you

1,000 jobs up for grabs as ScottishPower kicks off green recruitment drive