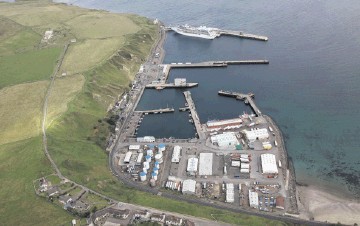 ASCO remain in talks over a proposed move to a 24/7 stand-by shift for a "small group" of dock workers.
The oil and gas services firm are asking staff to be contactable and available for work "at all times" during their seven-day rotation.
The affected employees had originally been on contracts from 8am to 8pm on a week on, week off, basis.
ASCO said previously that the steps were being taken were to ensure the North Sea remains a "viable" source of oil and gas.
The firm claimed the current 12-hour fixed shift pattern is preventing the effective loading and unloading of client vessels.
A spokesman on behalf of ASCO said talks were still ongoing – despite insiders claiming they had won a victory to scrap the scheme.
He said: "The discussions are ongoing with our staff at this time, so you will understand that we cannot make any statement until these discussions have been concluded."
Documents seen by Energy Voice last month, outline ASCO's proposals to move to a 'full flex' shift.
The proposed changes include cutting salaries by around £1,200 a year.
Overtime pay rates will stay the same but only come into effect after 67 hours on shift and not dependent on what hour of the day it is.
Annual holiday entitlement will also be cut under the plans, with nine days (216 hours) off being reduced to the equivalent of 7.8 days (188 hours).
One insider, who wanted to remain anonymous, said: "Everyone is fuming, not one employee is willing to sign the new contract.
"They are wanting to reduce pay, cut out all overtime, cut holidays, no set or guaranteed breaks.
"The morale on the base was already low but this has stooped it to an all new level.
"They will break men, no one can expect to live like that, being on stand by 24/7 or even survive on the pay they are trying to enforce."
Bosses at the firm said that current shift patterns do not match up with the schedules of ships coming in and out of harbours at all hours of the day.
And with the current North Sea climate they have decided to ditch current working practices and implement new hours for a "small group of people".
Around 85 employees are understood to be affected by the changes in Peterhead alone.
They currently work 77 hours per fortnight.
Under the proposed move to "full flex shift" they will only work 67 hours a week but will be required to be on hand at short notice.
In the documents laying out the shift changes, the firm states that "where practical" a days notice will be given to employees when they are required to work.
The proposal goes on to say that the "minimum" notice an employee can expect is eight hours but that this may be less or more "dependent on operational requirements".
One insider branded the changes "unsafe" as workers could be on the go for up to 15 hours at a time.
And an entitlement to an 11 hour break between shifts can be "reduced dependent on operational requirements."
In an FAQ paper, ASCO bosses say they recognise that those asked to come in on a 9am to 9pm shift will not be around for their children and that this "may pose difficulties" for some.
However the employees were encouraged to raise concerns at individual consultation meetings.
Recommended for you
X

Downturn is not over, but Statoil job cuts are finished