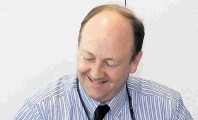 Bristow Helicopters said it was the second helicopter operator to become a full member of Step Change in Safety.
The firm said it had joined the organisation – set up to improve safety in offshore operations – to help improve standards in the oil and gas industry.
Bristow joins Bond Offshore Helicopters at Step Change, with its rival operator becoming a full member earlier this month.
Tim Glasspool, Bristow's head of flight operations for Europe and joint chairman of the industry-wide helicopter safety steering group, said: "Bristow was the first civil helicopter transport company to work in the oil and gas industry and our excellent safety record has earned us respect amongst our clients and within the industry.
"We are passionate about driving up safety standards in the oil and gas industry and we hope that our membership to Step Change in Safety signals our level of commitment to do so."