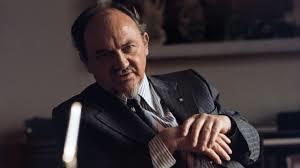 Anker Joergensen, the Danish prime minister who led the economy through two oil crises while the country recorded its slowest growth in the postwar era, has died. He was 93.
Joergensen's death was confirmed Sunday by his Social Democratic party in a statement, which didn't provide details. The former World War II resistance fighter led governments for the party from 1972 to 1973 and from 1975 to 1982.
"The fact that Anker Joergensen became so loved by the people, tells an immense story of his personal qualities," Prime Minister Lars Lokke Rasmussen said in a statement. "Denmark lost a personality who was cared for and respected across party boundaries."
Criticized by economists for mismanaging the economy, Joergensen was loved by many Danes for his informal manner and working-class roots. When he was premier, inflation almost doubled and the unemployment rate increased sevenfold as the global oil crises of 1973-1974 and 1979-80 sparked recessions in the Scandinavian economy.
"Under Anker Joergensen, Denmark was heading for an economic abyss," political commentator Kaare R. Skou said in "Danish Politics," a 2005 anthology. "One economic intervention followed another and merely scratched the surface as the country's structural problems remained unsolved."
Anker Henrik Joergensen was born July 13, 1922, in Copenhagen. He was raised by an aunt after his father, a horse- coach driver, died of tuberculosis when Joergensen was 2. His mother, a cleaning lady, died three years later. As a teenager, he started working in a warehouse stacking boxes and never went to high school.
During Denmark's 1940-1945 occupation by German troops, he joined an underground resistance group that conducted sabotage attacks and stole Gestapo archives. Those documents were used in the prosecution of Danish collaborators after the war.
In 1959, he took a three-month course at Harvard University studying labor-market politics, his only education beyond the 10th grade.
"Traveling to America and then, on top of that, getting to study at Harvard was something I never, even in my wildest imagination, had envisioned," Joergensen wrote in his 1994 autobiography. During the stay, he met Teamsters leader Jimmy Hoffa.
Back in Denmark, he rose in the ranks of the Social Democratic party through his work with the Danish Confederation of Trade Unions. Still, it was a surprise to most Danes when Prime Minister Jens Otto Krag in 1972 named Joergensen, who never had held a government position, as his successor.
Joergensen refused to move into Marienborg, the prime minister's home, preferring to stay in his three-room apartment in a working-class district of southern Copenhagen, where he entertained state leaders, including Vietnamese Prime Minister Pham Van Dong.
"He enjoyed the trust of voters beyond the Social Democratic Party as an honest and conscientious leader," Skou said.
An outspoken opponent of the U.S. war in Vietnam, he caused a diplomatic stir after the 1972 U.S. presidential election when he said he had hoped Republican Richard Nixon wouldn't be re- elected.
Joergensen's various coalition governments attempted to battle a widening trade deficit by devaluing the currency, the Danish krone, and took foreign loans to expand the country's welfare system, including new state scholarships for all students. Denmark's central bank repeatedly warned Joergensen's government to limit public expenditure.
Denmark's foreign net debt almost quadrupled to 40 percent of gross domestic product in 1982 from 12 percent a decade earlier. The unemployment rate soared to 9.8 percent in 1982 from 1.3 percent in 1972, while inflation accelerated to 10.1 percent from 6.6 percent.
Joergensen failed to gain parliamentary support to introduce the Social-Democratic idea of "Economic Democracy" in the Scandinavian economy, which entailed that parts of a company's profits be distributed among its workers.
In the face of mounting economic challenges Joergensen resigned in Sept. 1982. Poul Schlueter, the leader of Denmark's Conservative Party, was asked to form the next government and stayed in office until early 1993 after banning the use of currency devaluation as an economic policy tool and initiating Denmark's more than three decades of fixed currency regime pegging the krone to the deutsche mark.
Joergensen retired from politics in 1987 and his wife of 50 years, Ingrid, died 10 years later. They had two daughters, Kirsten and Mette, and two sons, Peter and Lars.
Recommended for you

Watch: Boris Johnson says UK has to keep North Sea oil and gas flowing