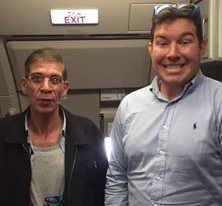 North east oil industry worker Benjamin Innes posed for a photograph with hijacker and would-be suicide bomber on board an Egyptian domestic flight.
Innes was on board the EgyptAir plane flying from Alexandria to Cairo when it was hijacked and forced to land in Cyprus on Tuesday by a man wearing what authorities said was a fake suicide belt. |The hijacker freed everyone on board and was arrested after giving himself up.
According to his Linked In social media profile, Innes is a QA/HSE Sytems Auditor at engineering consultancy TWMA, which has its offices in Bridge of Don, Aberdeen.
He has worked for the company for 14 months, after joining from Unilever.
He describes himself as a "a driven professional with expertise in the implementation and improvement of HSEQ management systems within the high hazard and offshore industries."
His background in risk assessment may explain why he was able to keep smiling while standing next to the hijacker wearing what he claimed was a suicide belt.
Innes's profile states he attend the University of York from 2007-2011 where he gained a Bsc in Environmental Science.