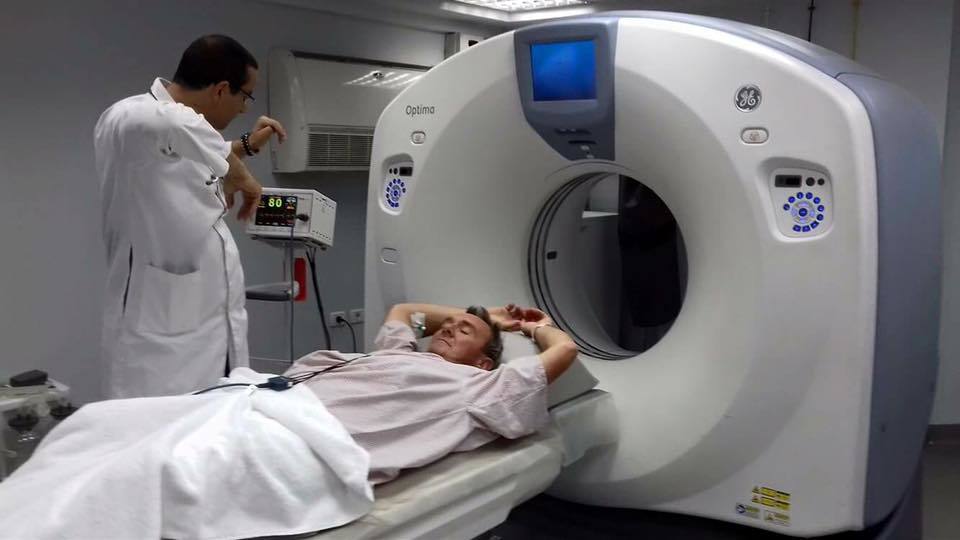 An offshore worker has praised his colleagues who raced to help as he lay "dead" for 20 minutes after suffering a cardiac arrest off the coast of Egypt.
Deck foreman Wattie Mcdonald was completing a handover for nightshift last month when he complained of feeling unwell before falling to the ground.
The 52-year-old said he doesn't remember anything after that as he "hit the deck" while co-workers rushed to give him lifesaving CPR.
A medic then gave him "three jolts" to bring him back to life before he was rushed to hospital in Alexandria.
The grandfather is now back in Aberdeen while he awaits a triple heart bypass operation.
Speaking of the moment he became seriously ill, he praised the heroic efforts of his colleagues who "kicked into action" straight away.
He said: "I had been doing a lot of gym work. I was kind of getting a few sensations and I put it down to indigestion. The week before I was due to come home I went down to my handover for nightshift and I had seemed a bit fuzzy and that was when I hit the deck.
"The guys around me were pretty well-trained and they started CPR and called the medic, Janet Boyd, to come help me.
"I think it was around 11.30pm and just before the shift change she appeared with a defibrillator and it took three jolts to bring me back to life.
"They think I was probably dead for about 20 minutes. They got me on a medevac and to hospital in Alexandria and then three days later they transferred me to another hospital in Cairo.
"I don't have much recollection of that time, I was conscious and semi awake but I don't remember any of it. A couple of days after, the hospital staff sat down and explained to me what was going on. I have no recollection of the cardiac arrest itself.
"Subsea 7 then transferred me back to Aberdeen and I got back here a week last Saturday. My wife was almost coming out to Egypt to be with me but they turned her around and I have been at Aberdeen Royal Infirmary ever since.
"As soon as I got back to Aberdeen I got a lot of scans, an MRI and a CT scan as they were concerned there could be brain damage and I think they were quite shocked everything was 100% ok.
"They thought I would need to have a couple of stents fitted and they also gave me an angiogram. Once they had done that they realised I would need a triple bypass operation to replace the arteries which are blocked.
"It's quite a daunting operation. I'm not looking forward to it but I feel lucky that I am getting the treatment I need.
"The operation is a week or so away but they're keeping me in till then as they said I'm still quite high risk and I am still seriously ill so they want to keep me under observation."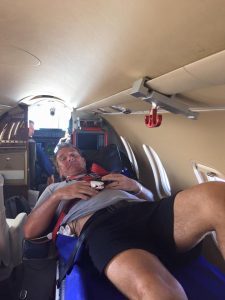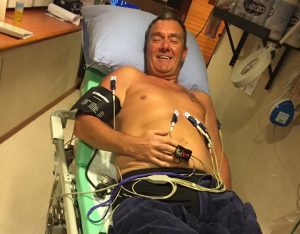 The oil worker said the reality of what happened to him has still to sink in and said he had "never felt fitter" before the incident happened.
He also praised the support of his wife, Jackie, his children and his grandkids.
Wattie said if it hadn't been for the quick-thinking of the staff he works with he doesn't know "what would have happened".
He said: "I'm waiting for someone to come and say your paperwork has been mixed up. I have never felt fitter and then this happened. It's quite bizarre. I'm lucky I have this opportunity to get repaired. It's daunting but I have started my road to recovery.
"My family are great. The kids have been here and the grandkids and my wife has been here every day.
"I feel even more lucky as each day passes. If it hadn't been for the intervention of the guys I work with I don't know what would have happened.
"I'm just so lucky the guys kicked into action right away. Not only did they save my life but now I have still got a life."
He also thanked the support of his good friend Jane Leiper who has been tending to the 17 Siberian Huskies he owns.
The keen husky-racer had been due to open his Husky Haven in Netherley in Aberdeenshire last week but the move has been put on hold until he returns to full health.
He said the support and contact from family, friends and colleagues has been "amazing".
Wattie added: "I have had some pretty tough challenges in my life time but none more daunting than this, but I'm very positive that this will give me another chance, so I'm going to grab it with both hands and I'm looking forward to coming out the other side in a few weeks' time, ready to face the rest of life head on."
Recommended for you

CNOOC confirms first oil from delayed Buzzard Phase 2 project