Sirius Petroleum said a member of its board has resigned with immediate effect.
The company said Simon Hawkins will leave his position which he has held for more than a year.
It comes after he notified the board of his plans not to stand for re-election at the company's recent annual general meeting.
In a statement the firm said he would be taking the time to recover from a short term health problem.
New board members are expected to be announced shortly.
Chairman of Sirius, Jack Pryde, said: "I am very grateful to Simon for the depth of knowledge and experience he brought to Sirius. He is a valued colleague and I am most grateful for his offer of continued counsel and we all wish him a speedy recovery."
Recommended for you
X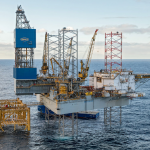 Noble brings in new chief executive