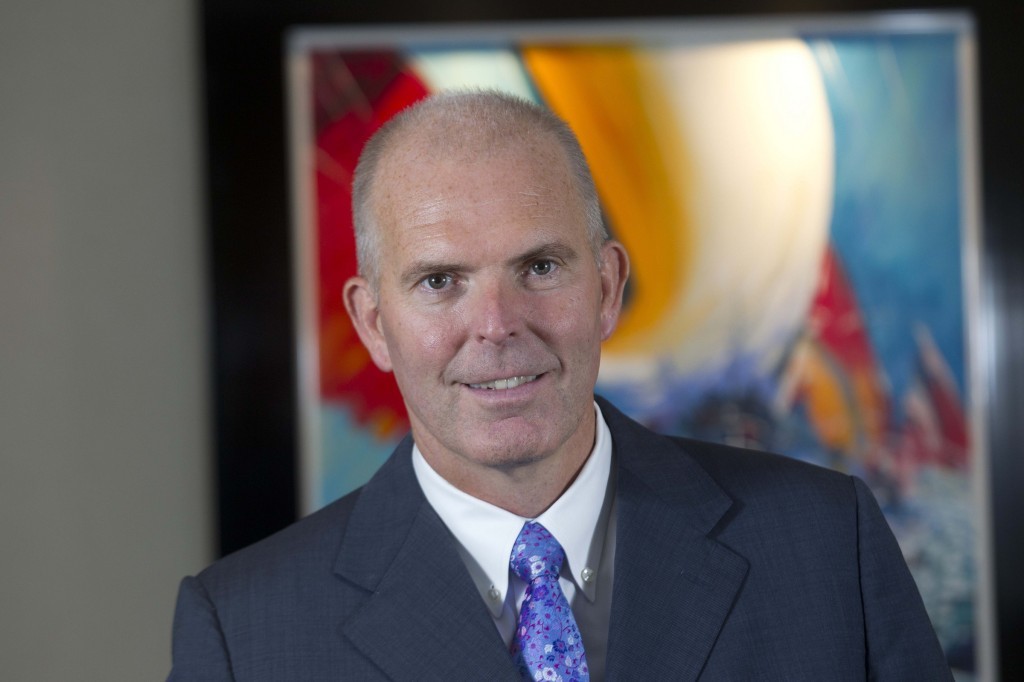 Colin Welsh will step-down from his role as head of international energy investment banking at Simmons & Co International.
While the decision was difficult, the financial expert said the "timing was right" to begin the next chapter of his career.
"I've been running this business in all of its versions for about 30 years," he said.
"It has been a tough 30 years, because it's tough growing and then running a business. There are stresses and strains that go with that. When you're leading a business that's part and parcel of the job. But there comes a point where you say, you know what – that's not something I want to do anymore."
Mr Welsh founded RMD, an accountancy and corporate finance firm, in 1987. It was later sold to Touche Ross, now Deloitte.
While at RMD, Mr Welsh met Matt Simmons, who became his mentor.
"I met him on the other side of a deal and he just took a shine to me," Mr Welsh said.
"Matt Simmons was an enormous influence in my career. He used to talk about intellectual curiosity. He used to tell me don't just accept what people say or the information that gets provided to you. You need to be intellectually curious and challenge for yourself whether it makes sense.
"That is a very valuable trait."
Mr Welsh joined Simmons in 1999 and has since overseen $16billion in transactions.
"I've been lucky," he said.
"I started life as a charted accountant. If somebody had said to me that 30 years on I would be head of investment banking for an international, publicly traded, US business, I would have just laughed."
He has since established an inner circle of colleagues who he has known for many years.
"It's been incredible. I've been lucky that I have had exposure to oil and gas and I've been lucky with the people I've worked with," he said.
"Over time there have been a lot of people who have come to us with business ideas, have developed businesses or built businesses. We've helped people become very wealthy. A lot of our clients would tell you that we played an important part in them becoming really successful. That's what we're here for. That's our mission as investment bankers – to help people and build their wealth."
Mr Welsh most recently led the takeover from Piper Jaffray.
"When Piper Jaffray came along and said they would like to buy Simmons I thought the timing was quite interesting, because actually it could be a point to think more seriously about getting off the bus.
"I went into the Piper deal thinking that, as happens with some acquisitions, you put two businesses together and you would get two plus two equalling three-and-a-half. The funny thing is we've actually ended up with two plus two equalling six.
"And that's because Piper are such nice people and culturally they are just a fabulous fit for here."
Since the deal, the Simmons energy team has completed $11billion worth of deals internationally and Piper's market capitalisation has increased by 60%.
"The marriage has gone so well, it's actually unbelievable," Mr Welsh said.
"In some respects it's even harder to step off the bus when things are going so unbelievably well. In other respects, that's the right time to step off, because the business is in good hands.
"It's still a wrench to give it up, because it took me 30 years to get here and I only just got good.
"But I don't want to wake up worrying if people are doing their jobs anymore.
"For some time I've been thinking after 30 years I would like to have an easier life."
And what does he put his business success down to?
"Woody Allen said 99% of success is turning up," Mr Welsh said.
"I often joke with people that I've made a career out of that – just turning up."
But Mr Welsh won't be stepping out of the game completely. He'll still be chairman of the investment committee of Simmons' private equity fund.
He also plans to become more involved in the oil and gas industry.
"I'm very interested in energy and oil and gas and it's absolutely my intention to continue to be involved with that," he said.
"Whatever I do next will be in energy.
"In many respects I see myself as a longer-term investor, because you have to see through the peaks and troughs of the industry. It's easy to be smart with hindsight. If we were all incredible investors we would all be investing in the bottom of the cycle and selling out at the top of the cycle."
But he'll be doing it at a slower pace.
"There's a desire on my part to slow down and have more time to enjoy life actually," he said.
"There are a lot of things people take for granted in everyday life.
"But when you're living a very hectic corporate life and travelling, including long haul flights every few weeks and some variety of flight every week, you never get time to truly relax or do some of the most basic things.
"I've flown to Sydney, Australia for dinner and back and gone to Singapore for a half day meeting. These are the things you have to do in this role, but they kill you. It has a very wearing effect.
"The bottom line is we're only here once. It's not a rehearsal. My major cancer scare a few years ago was a pretty big wake-up call."
Mr Welsh plans to spend his first few months off skiing, walking his two black labs and spending time with his family, including daughter Christy, son Connor and wife Wendy.
"This is just the right time and I feel really good about it," he said.
"It has been a terrific journey so far.
"But the accountancy business was work hard, play hard and the Simmons business was work even harder and play a lot less, so it's time to rebalance that."
To find out if you can still make money in the North Sea and what Mr Welsh would like to give Oil and Gas Authority chief executive Andy Samuel for Christmas read tomorrow's exclusive story.
Recommended for you

Well-Safe unveils Spirit Energy as first contract for Defender rig