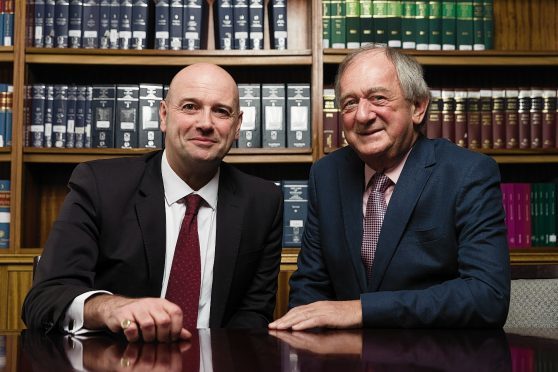 A lawyer who came to prominence in the aftermath of the Piper Alpha disaster has returned to offering front line legal services.
David Burnside, a well-known Scottish employment lawyer, has joined Aberdein Considine as a consultant after two years spent training people for the courtroom.
Mr Burnside, 74, acted as the spokesman for the legal group fighting for compensation for the bereaved families of Piper Alpha and also led a compensation battle for victims of the Chinook helicopter disaster.
He is one of two former Burness Paull employment lawyers joining the firm, with ex-colleague Jennifer Gardner also making the switch following a one-year career break.
Joining Aberdein Considine, Mr Burnside is also re-united with his friend and former business partner Charlie Fraser, with whom he owned boutique Aberdeen litigation practice Burnside Kemp Fraser between 1989 and 2004.
Mr Fraser said: "David is respected across the industry and bringing him on board is a coup for us.
"For our clients, having someone of David's experience to call upon in an employment law situation is fantastic. As a firm, we have been assembling legal teams made up of experts in their fields, ensuring our clients receive the best advice. David fits that strategy perfectly."
Mr Burnside added: "Through acquisitions and lateral hires, Aberdein Considine has grown into one of the largest legal partnerships in Scotland.
"There are some extremely talented lawyers here, from commercial real estate, corporate and litigation through to debt recovery and employment. I am very happy to be adding my experience to the team."
He was first accredited as a specialist in employment law in 1990. He served his initial legal apprenticeship with an Edinburgh firm before a spell working for the National Coal Board. After moving to Aberdeen, he joined Clark & Wallace in 1970. He remained there until 1989, before leaving to set up Burnside Kemp Fraser, which specialised in litigation and employment law.
It merged with Simpson and Marwick on 2004 and Mr Burnside left five years later to join Aberdeen-based Paull & Williamsons, which merged with Burness in 2012.
He has appeared at employment tribunals throughout Scotland, England and Wales and advised employers and employees across all sectors on every aspect of employment law from formation of contracts to complex sex discrimination cases.
He and Ms Gardner join partner Sally-Anne Anderson, formerly of Harper MacLeod, and associate Catriona Ramsay in Aberdein Considine's employment law team, which operates from the firms legal headquarters in Aberdeen, Edinburgh and Glasgow.
Aberdein Considine offers property, legal and financial services to private and commercial clients across Scotland. It works with global banking giants RBS, Lloyds Group and Santander, as well high street retailers including Greggs and Rox. The firm is also now active in the public sector, doing legal work for NHS Grampian and the Scottish Legal Aid Board.
Recommended for you

Employers very wary of 'no jab, no job' policy, says top oil and gas lawyer