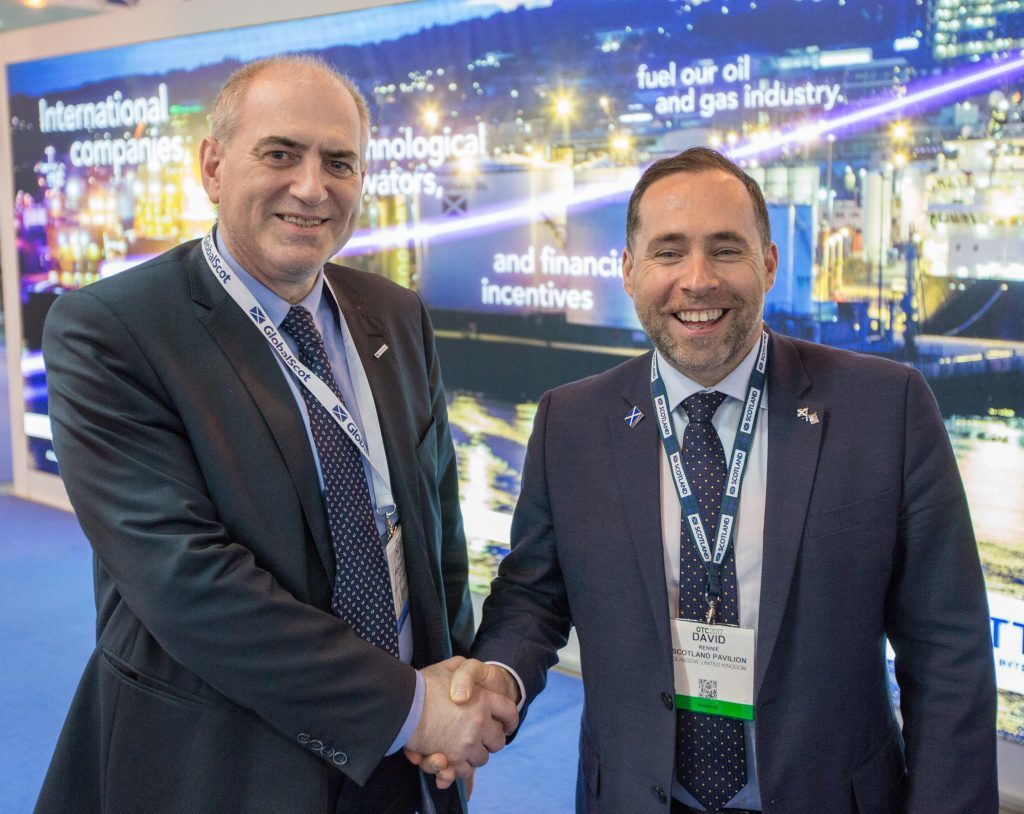 Lawyer and Middle East business expert Hugh Fraser has been inducted into a global networking initiative set up to help Scottish firms break international markets.
The Aberdonian has joined Globalscot and hopes to help companies with roots in North Sea oil and gas to grow their business in the region where he is now based.
It comes just weeks after Mr Fraser announced plans to relaunch his business – HFI Consulting International – in August after spending the past four years as managing partner of the Dubai offices of global law firm Andrews Kurth Kenyon.
Globalscot is an initiative set up by Scottish Enterprise 16 years ago and comprises business leaders, entrepreneurs and executives with a connection to Scotland. They all aim to use their skills and knowledge to help companies operating in a range of industries succeed on the international stage.
Mr Fraser said: "It is a huge honour to be part of the Globalscot network and I am looking forward to giving Scottish companies guidance on how to grow in the Middle East and North Africa.
"There are opportunities for our companies to add significant value in a growing number of countries, such as Saudi Arabia, Iran, Iraq, United Arab Emirates, Oman, Kuwait, Qatar, Egypt, Libya, Sudan, Algeria, Tunisia and Morocco.
"Although I have been based in the United Arab Emirates for well over a decade, the majority of businesses I have worked with have their origins in the North Sea. As a proud Scot, it has given me great satisfaction to see so many Scottish companies succeeding overseas but there is still much to be done in reducing the rate of failures and increasing our rates of success."
In addition to the base in Dubai, HFI Consulting International will have offices in Aberdeen, Amsterdam and Saudi Arabia and will expand its scope by drawing upon the skills of a network of specialist consultants and in-country legal experts.
David Rennie, head of oil and gas at Scottish Enterprise, said: "We are delighted to welcome Hugh to the Globalscot network.
"We have already worked with him over a number of years and I know that his knowledge of key overseas markets, his willingness to help Scottish companies through advice and guidance, and his own networks and connections will play an important role in assisting Scotland to promote itself on the global stage."
Meanwhile, Deloitte's Graham Hollis has been appointed senior partner at the firm's Aberdeen office, ahead of the retirement of longstanding practice lead, Derek Henderson.
Mr Hollis moved to the city when he became a partner with the firm in June 2008. Prior to this he spent 13 years with Deloitte's oil and gas team in London. He leads Deloitte's upstream audit and advisory practice in Scotland, its international practice for Scotland and the north of England and has over twenty years' experience working with the oil and gas and oilfield service industries, both in the UK and internationally.
Mr Henderson retires at the end of May after two decades as a corporate tax partner with Deloitte. He became senior partner of the Aberdeen office in 2000, after being promoted to partner in 1997.
Mr Hollis said: "Aberdeen has an important role to play for Deloitte and we are continuing to invest in our practice here – particularly as we combine our depth and breadth of capabilities with eight market leading member firms, including Norway, as our North West Europe firm takes shape.
"Derek has made a significant impact on Deloitte's presence in Aberdeen, providing strong leadership to over 100 staff in the city, as well as advice to our clients during periods of great change and complexity for the North Sea industry. We believe the industry has turned a corner in 2017 and many businesses in the North East are well-placed to make the most of the opportunities that undoubtedly remain in the UK Continental Shelf."
Mr Henderson added: "In my time at Deloitte the oil and gas industry has been through a great deal of change, which has brought with it both substantial opportunities for the North Sea and a variety of challenges. It has been an honour to work with some of the world's leading energy companies and support them through the past two decades.
"I know that I'm leaving the Aberdeen practice in safe hands – Graham has been with the firm for a long time and knows the industry, the city, and our office, exceptionally well. I wish him and the entire team all the best for the future."
Aberdeen Asset Management, which is ccurrently in the process of a merger with Standard Life, has appointed Paul Mehta as global head of loans as it continues to expand its loans investment capability. He will report to global head of high yield Steve Logan and form part of the 20 strong global high yield group. He was previously a senior trader in BNP Paribas's loan and distressed debt team.
Mr Logan, said: "Paul's appointment is part of our strategy to further strengthen our loans capability, where we have been investing for a number years. This also reflects the increasing appetite from clients to invest in loans."
KPMG has made a string of new appointments to bolster its oil and gas industry expertise in Aberdeen.
Deborah May joins KPMG as senior tax manager following a six year period at Proserv as global tax manager. David Mubarak joins the firm's corporate finance team as an associate after working as a petrophysicist with Schlumberger, studying for an MBA with Robert Gordon University and undertaking a placement with private equity firm Energy Ventures. CHris Harvey joins KPMG as a manager of supply chain operations after working with BP for more than a decade.
Martin Findlay, senior partner at KPMG in Aberdeen, said: "As the oil and gas sector starts to respond to the end of the recent downturn and reports a steady economic adjustment, we are bolstering our teams with direct, relevant industry knowledge."
Recommended for you

Failure on D&I could cut oil firms' funding, warns North Sea's top producer