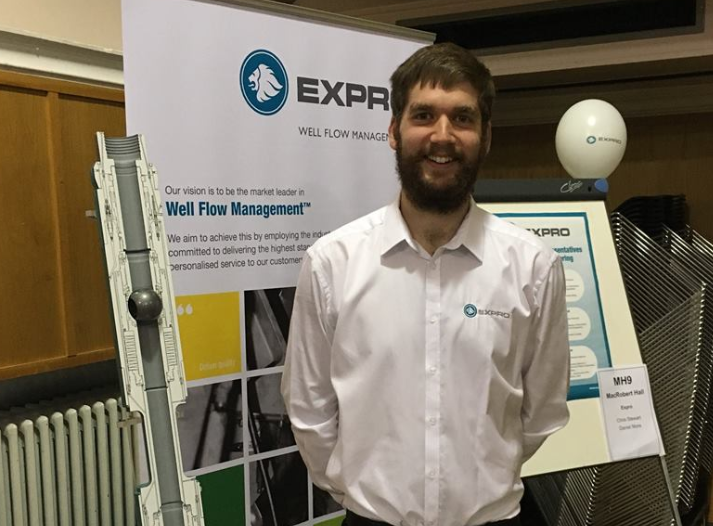 An award-winning north-east engineer is using his own experience of pursuing job opportunities during his downtime to tell aspiring oil and gas workers "don't just be another brick in the wall".
Chris Stewart, senior engineer at Expro Subsea, has been at the firm for more than five years, but really it's much longer than that.
While his classmates were relaxing during the summer break, Mr Stewart was volunteering to work at Expro and giving up his time to see where he would best fit within the company.
He knew he wanted to be an engineer, but he felt the best way to find out what he wanted to do was to work there, trying his hand within a new area of the company each summer.
When it came to who Expro were going to hire next, it was a no-brainer for the firm.
Mr Stewart said: "My advice to any aspiring student is to stand out.
"I did well in getting my placements because I put myself out there. No one else got that for me, I did that myself.
"I say that to students all the time, I speak to school pupils and tell them the same thing – what's stopping you from volunteering at a firm for a week in summer?
"Even if, at the end of the day, you know that's not what you want to do, at least you've ruled something out."
Mr Stewart splits his time between his career at Expro and holding the post of chairman of the Young Professionals of Aberdeen, a volunteer role within the Society of Petroleum Engineers (SPE).
He's been recognised several times for his efforts to engage young people looking to get into the oil and gas sector and helping advise them in what can often be a difficult industry to penetrate.
Last year, Mr Stewart was highly commended at the SPE Offshore Achievement Awards Young Persons category before scooping the SPE Young Member Outstanding Service Award for the North Sea region last August.
Asked what young people today can do to make the difference when competing in a difficult oil and gas job market, he said: "I would say stand out, be an individual.
"Put yourself out there and make yourself available for opportunities. Don't just be another brick in the wall.
"There's a lot of people who'll be competing for the same job, especially when you're all just out of university, but realistically the person that has summer placements under their belt throughout uni, who's done that extra work and put themselves out there, is going to be better placed to win that job."