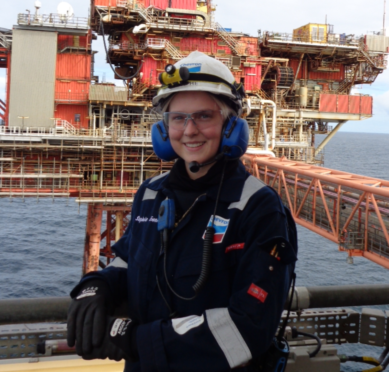 Sophie Ewen is currently in her final year of the Oil and Gas Technical Apprentice Programme (OGTAP) and works offshore for Chevron North Sea Limited.
OGTAP is managed by OPITO in partnership with the Engineering and Construction Training Board (ECITB) and is one of the UK's most successful training programmes. It has helped more than 2,000 people enter into the sector in the past 20 years.
Sophie, originally from Buckie on the north-east coast of Scotland, is based on the Captain Wellhead Protector Platform, 90 miles north-east of Aberdeen. She works a 12-hour shift pattern during her three weeks on, three weeks off rotation.
Sophie is part of the team which ensures the asset's operating systems and equipment are maintained and work safely. This includes high priority responsibilities such as issuing work permits, overseeing installation shut-down and start-up operations and round-the-clock monitoring.
As part of International Women in Engineering Day, we find out what it's like being a female offshore.
What interested you in pursuing a career in engineering and oil and gas?
I enjoyed STEM subjects at school and a modern apprenticeship in a technical area appealed to me. Growing up in an area where oil and gas and engineering is prevalent, I saw this route as the ideal one to enhance and further develop my strengths in the direction I wanted to go.
OGTAP has given me the opportunity to study for national qualifications at college for two years and I'm now in the last segment of the programme which sees you working alongside personnel at your sponsoring company for a total of 21 months. I will be fully qualified in May next year.
I'm really enjoying the onsite placement as this has allowed me to apply the knowledge and theory learning from college into the live plant situation. From working hands-on, I have a deeper understanding of how the equipment works and how to best support ongoing safe operations.
When I was looking at which engineering route to pursue, the work-life balance the energy sector offered really appealed. My perception was that being offshore would provide a fantastic learning environment, plenty of time at home and the opportunity to travel; I've not been disappointed.
Have you faced any challenges as a woman in the sector?
Initially it was a daunting prospect to enter into a male dominated environment, but I have found everyone so helpful and welcoming. My colleagues and supervisors have always been happy to answer any questions and allowed me to get involved so I gain first-hand experience.
I don't feel there are any barriers as such because of my gender. I would say it's more that females are not always aware of the opportunities out there and if they are interested in engineering, that the energy sector is an industry which offers many different options.
I was 20 years-old when I started my apprenticeship, but a lot of women leave it until later on in their education to even consider engineering. I'm really pleased with my choices and would advise anyone else with an interest in STEM subjects to find out more. Engineering is an ever-changing industry. With the new technology advancements, it also provides an interesting and exciting future.
What has been your career highlight so far?
I was approached by the energy skills body OPITO to be part of the panel debate at the launch of the UKCS Workforce Dynamics: The Skills Landscape 2019 – 2025 report launch last month (May). This was a very nerve-wracking experience as it took place during an Oil & Gas UK business breakfast where I was on a stage with senior industry figures as well as a large audience.
I gained a lot from the experience and it also gave me a platform to hopefully inspire other young women to consider this sector.
I am confident that with the skills and knowledge I have been taught and developed throughout my OGTAP apprenticeship will take me far and, in the future, they can be transferred into other industries such as to the renewable sector – wind, electricity, solar.
For more information on OGTAP, go to www.ogtap.co.uk
Recommended for you
X

Acteon swoops for US geosciences survey firm TerraSond