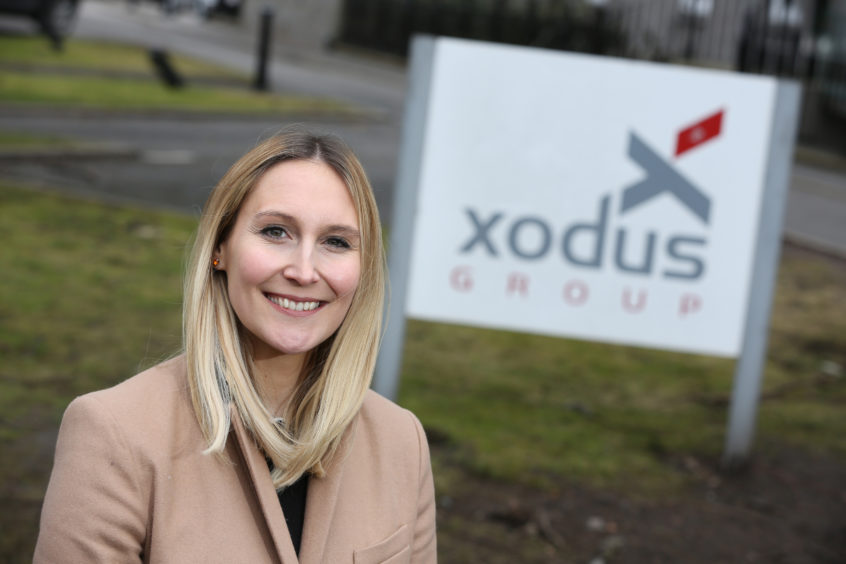 This Sunday (23rd June) marks International Women in Engineering Day. Christina Horspool has worked at Xodus Group for more than six years. The 34-year-old is originally from Birmingham, England and plays a key role the company's environmental team.
Xodus Group is a global energy consultancy, offering expert advice and solving complex problems. Multi-skilled specialists work across the energy spectrum providing advisory, engineering and consultancy services alongside intelligent data solutions.
Here, Christina shares her experience of being a woman in engineering.
What do you enjoy most about your job and engineering in general?
In recent years Xodus has actively encouraged a focus from the senior leadership team to inspire Innovation. As a bit of a closet creative, having the space to proactively look for opportunities to do things in a better way and being able to empower my team to question and challenge constructively has led to us having a dynamic and creative environment to work within.  It makes the 'day to day' incredibly exciting and refreshing. As a result, we deliver better outcomes for our clients, it keeps the mind active and every day is different. I love having the opportunity to work with a real diverse team from field development project managers to technical safety engineers to marine biologists.
Also, now that a large part of my role is around developing a vision and strategy for the growing environmental offering at Xodus, I have found it incredibly satisfying having a part to play in the development of our experts of tomorrow. Having spent a couple of years in the teaching profession, the chance to bring my wider passions to the table is a real motivator.
What does a typical day at Xodus look like?
There really isn't a typical day. One day I might be delivering a thought leadership piece to industry or my peers, another day I might have a project kick off meeting followed by a technical QA followed by a mid-year review of one of my direct reports.  Often, much of my day revolves around problem solving, forward planning and client liaison.  My favourite days are those spent looking at challenges with the team, it's great to have the opportunity on a regular basis to bring diverse multi skilled teams together to collectively solve problems.
What challenges do you think exist for females?
I think it is important to say first and foremost that different challenges exist for each demographic in the workplace. Speaking from experience, a key challenge I personally face is maintaining a work-life balance. Having flexible working arrangements or working flexibly can be a real challenge for many women (and men). Shifting the focus to productivity and results not time spent at a desk is key. I am lucky enough to work with an employer that sees flexible work arrangements as an effective tool to not only attract top talent but ultimately as a cost-savings measure to reduce people turnover and absence. As a mother of two, this is an invaluable benefit.
This leads on to one of the other biggest challenges I have faced as an ambitious 30-something female – pregnancy.  Balancing a developing career and having two pregnancies and subsequent maternity leaves has meant that I have had to accept that each time I come back from maternity I have effectively had a 'career break', regardless of the length of time. Consultancy and industry moves on and there can be an overwhelming amount to catch up on when you get back. With pregnancy, you can face gender bias assumptions: Will she manage with two children at home? Are you going part time? How will you juggle? Would these have been asked of a man – in most instances no.
I could talk at length about challenges that each demographic incur but in terms of a female working in engineering I would say there are still key challenges in the industry around role models, equal pay, the 'old boys club', gender stereotyping and the subsequent gender bias that can surface.
Why did you decide to work with Xodus?
I was reaching out to get back into Industry following a short sabbatical in teaching. I fancied a new challenge and to get back in 'the thick of it'. When I was interviewed by Xodus I could see that their culture was different to other engineering consultancies I had worked for. I loved he company's ethos and its focus on people. There were exciting industry projects and I could see that a move into the energy industry was where I wanted to be with my background in atmospherics and carbon accounting. I could see there was real opportunity for development and growth with a business built on integrity, trust and merit – there's no 'old boys club' here.
What advice would you give to other females who are interested to pursue engineering as a profession?
I think I would give these words of advice to both females and males.
Don't be afraid to have a voice, challenge the status quo and bring your ideas to the table. Be passionate about what you do, work hard but make sure you take the time to reflect, don't stand still with your learning as our industry is evolving all the time and don't be afraid to be your own best advocate. Experience is invaluable but creative thinking, passion and drive are equally key for success.
Take ownership of your development and your career as no one else will do it for you.
Recommended for you
X

A day in the life of an Airborne Oil & Gas engineer