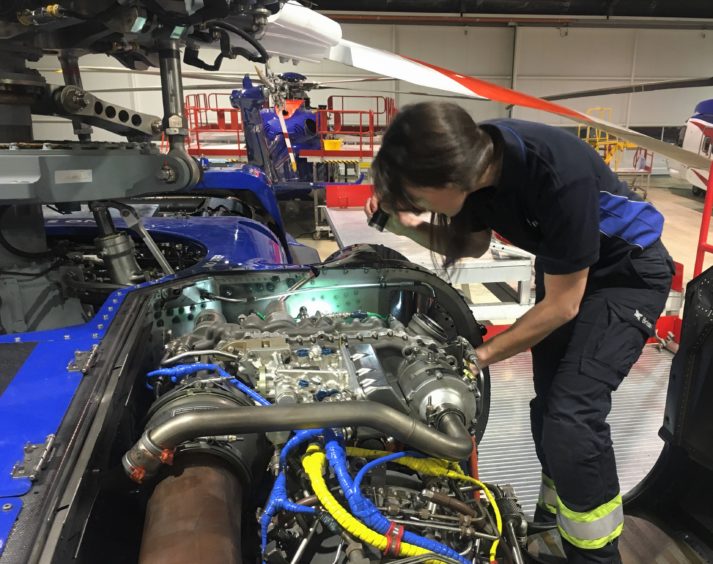 Kelly Wood is a licenced aircraft engineer at Bristow Helicopters. After entering the business as an apprentice in 2011, she is now a B-licenced engineer working at one of Bristow's busiest heliports in the UK.
Why did you choose to pursue a career in engineering?
My Dad is an aircraft engineer, so it was an area that had always interested me. When my sister and I were younger, he would encourage us to get involved in practical tasks, which led me to join my local air cadet squadron in Inverurie. My passion for aviation really grew from there.
I left school in 2010 and took a gap year volunteering with a charity in Malaysia. When the time came to travel back to the UK, I started looking at apprenticeships and spotted the opportunity at Bristow. I knew I wanted to get out of the classroom but was still keen to learn, so the apprenticeship scheme seemed like a brilliant opportunity to gain the skills I needed on the job.
Can you tell me about your apprenticeship experience?
I started my apprenticeship at the Lufthansa Technical Training College in Cirencester where we really learned the basics. When I had passed my exams there, I moved back to Aberdeen and started working in the Bristow engineering department.
The experience of being in the workshop was invaluable and the apprenticeship provided the opportunity to work in different engineering disciplines in three-month placements. I also got the chance to travel to the Bristow bases in Humberside, Shetland and Norwich in the UK and Sola in Norway. It was brilliant to meet new people and understand the wider company operations.
Can you tell me about your current position as a licenced aircraft engineer?
Helicopter maintenance is split into two sections, Heavies and the Line. Heavies is where the comprehensive airframe checks take place, usually when a helicopter has reached 1,500 flying hours. The aircraft gets a very thorough inspection and all major components removed during the process. It's a bit like when your car goes for its annual service, but at a much more detailed level.
I work on the Line and every day is different here. Our aim is to keep all Bristow aircraft ready to fly which on average, is around 10 helicopters per day. This is the less predictable side of maintenance. The helicopter is inspected before, in-between and after flights, physically by an engineer and digitally with a computer. This is in addition to the pilot's debrief when they come back from a flight, which can highlight any issues requiring attention. The work we carry out aims to prolong the life of the aircraft while also providing comfortable experience for both pilots and passengers.
We might still need to remove a major component for inspection, repair or replacement, however we would we focus on only one area at any one time, giving them appropriate attention and completing each task in full, so the aircraft is ready to carry passengers again in the morning.
What is the most enjoyable part of your job?
In the eight and a half years I've worked for Bristow, the amount of travel and detachments I've been able to experience has been fantastic. The most recent trip was probably my favourite. I travelled to Prestwick Airport to collect three Sikorsky S-92 helicopters that were arriving from Australia on the back of an enormous Antanov. Watching the aircraft land with the three helicopters on the back was an amazing experience. I wasn't expecting to travel as much so it's been an unexpected bonus of my job.
I'm also very lucky to work with a brilliant team who are extremely supportive. If I ever put forward a case for me doing a course or training, I'm always fully backed. After seeing how much I loved my job, my Dad joined the Heavies team at Bristow in October 2014 so it's brilliant to work alongside him too. The business also actively encourages women to enter the aviation industry which is important to me to ensure we're inspiring the next generation. We have a great ratio of women across the business and half of our executive team are women which is fantastic to see.
What is the most challenging aspect of your role?
The challenges of my position really link back to the complex engineering of the aircraft. Due to helicopters operating throughout the day, most of the work is undertaken at night and over weekends.
It can be a high-pressure environment when we know we have an aircraft that needs to be serviceable to fly the next morning. When a helicopter lands at 7pm, we will have to make sure it is ready to fly at 6am, so the clock starts ticking. Bristow has an industry-leading system to manage this process, and the entire team works to ensure that safety is our priority at all times.
Do you have any goals or aspirations for the future?
I achieved my B licence in February 2018 and I'd like to work towards becoming a senior engineer in a few years. Currently, I work with S-92 and AW189 aircraft but I'm also keen to continue building my knowledge on the different aircraft models we operate. Wherever I progress in the next five to 10 years, I know I want to be doing it at Bristow.
Recommended for you

Aberdeen oil and gas engineering firm appoints new business development director