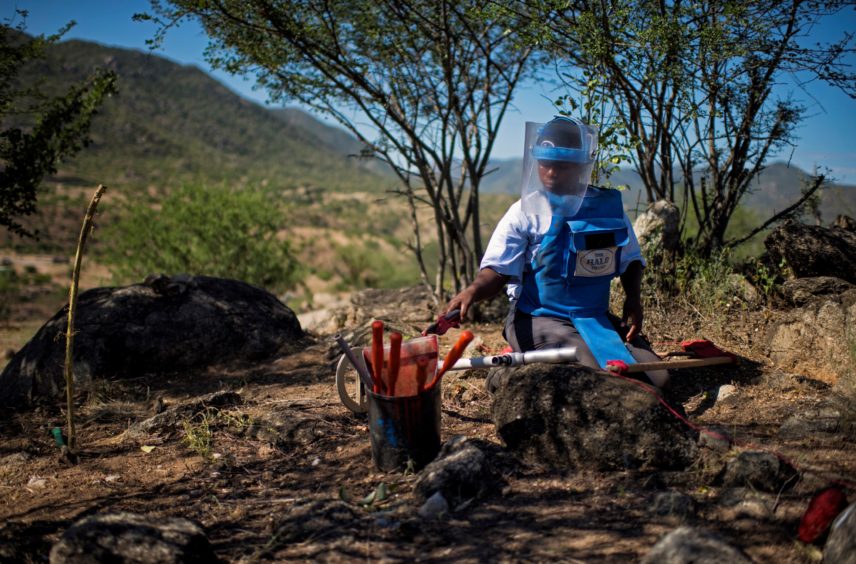 Neptune Energy today announced a new partnership with worldwide humanitarian landmine clearance organisation, The HALO Trust, to further improve safety performance within both organisations.
Neptune teams will demonstrate their systematic approach to incident management, root cause databases and learning review techniques, gained from decades in the oil and gas industry, to their counterparts at HALO.
In turn, HALO will share how their use of training and supervision supports positive behaviours and practices among teams clearing landmines and other unexploded ordnance from areas affected by war.
Neptune's Group HSEQ Director, Kick Sterkman, said: "While the day-to-day work our organisations carry out may be fundamentally different, we both operate in high-risk environments that require strong focus, a skilled and well-trained workforce, and where there is absolutely no room for complacency.
"We are committed to the protection of all our people and those we work with and this partnership provides Neptune and HALO with a unique opportunity to learn from one another, share lessons about the development of a strong safety culture and further enhance safety within each other's organisations."
HALO employs and trains local men and women in how to safely remove landmines and unexploded ordnance from areas affected by war. It also educates people around the world on staying safe in communities contaminated by explosives. HALO began working in Afghanistan in 1988 and today has programmes in 25 countries and territories across the world, including Africa, Latin America, Central and South Asia, and the Middle East.
Neptune operates gas and oil production facilities in the UK, Norway, Netherlands, Germany, and also works with its JV partners in Egypt, Algeria, Indonesia and Australia on a range of developments and exploration opportunities.
James Cowan, HALO's CEO, said: "This is a really progressive and innovative approach to improving how we work. There are strong connections in what we do and a great deal we can learn by talking to each other.
"Both organisations have to have a strict safety culture that runs through everything we do. We both operate in challenging, often dangerous, environments on a daily basis without becoming complacent and we harness technological expertise in combination with highly skilled people.
"HALO can share how it manages issues like regulatory compliance, accident investigations, safety, safeguarding and diversity and in doing so, learn how these issues are managed at Neptune."
HALO and Neptune have signed a three-year agreement to share information and support the development of operational safety and integrity in all their activities to improve safety performance, protect the environments in which they operate and support robust and transparent organisational governance.
The HALO partnership is in line with Neptune's Environment, Social and Governance (ESG) strategy and follows its pledge last month to support mental health and youth employment opportunities across the UK and beyond which have intensified as a result of COVID-19.
Recommended for you

Protests disrupt gala dinner at Africa Energies Summit