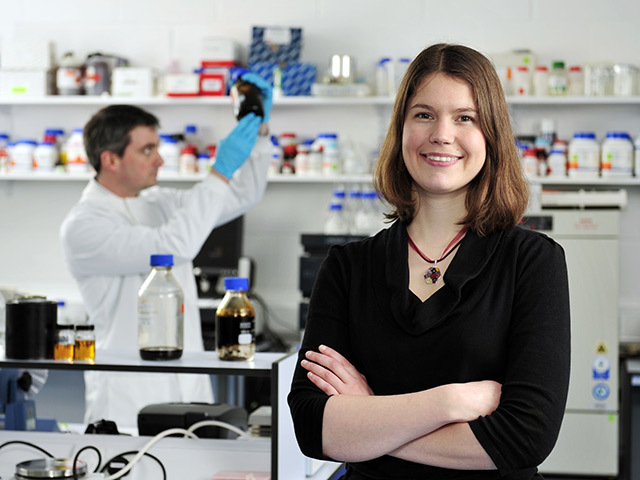 For a company founded to serve the medical industry, with experts in the life science field, Lux Assure has taken to the oil and gas industry very easily.
The chemical monitoring business started life in 2001 as Lux Biotech, developing products for pharmaceutical companies for the detection of drugs.
Emma Perfect, who joined Lux soon after its launch, said the turning point for the firm came when it realised oil and gas operators could also use its technology to help stave off corrosion on ageing offshore platforms.
It led to Lux focusing all the efforts of its team, which was six-strong at the start of this year but is expected to be double that before 2014, on the energy industry and the business has never looked back.
Edinburgh-based Lux now has new offices at Bridge of Don, Aberdeen, as part of its plans to extend its presence in oil and gas, which it expects to help it grow to more than 40 people by the end of 2016.
Miss Perfect, 33, said the move towards the offshore sector was also starting to make an impact on turnover, which was £135,000 in the year to May 2012 in the firm's research and development stage and is expected to come in at £360,000 for the current trading year.
She estimates Lux's anti-corrosion products alone will tap into a global market worth tens of millions of pounds and said the lucrative oil and gas industry could so easily have passed the company by.
"We were a team of life scientists at the time, so oil and gas was quite alien to us," she said, adding: "It would not have sprung to our minds as a market for us if we had not had our eyes opened to this whole new sector."
Miss Perfect, who studied for her PhD at Oxford University, had to learn about Lux's new specialist subject quickly. She swapped her lab coat for a suit in 2010 when she became managing director, a role she held in tandem with her chief scientific officer title.
Miss Perfect said she did not mind leaving the laboratory behind, however, adding: "I am fully aware there are better hands-on practical scientists than myself. What I like is the interaction between the technical work and the commercial side. We need to make sure the technical aspects meet a commercial need."
With the arrival of a chief executive, Charles Cruickshank, who has an oil and gas background, Miss Perfect has taken on the chief technical officer position.
Another new role is just around the corner as she is due to become a mother next month. She said: "I am used to putting in a lot of time and energy into something with my time at Lux, although generally my work has not woken me up in the early hours of the morning, which I suspect I will now have to get used to."
Miss Perfect, who lives in Edinburgh with partner Stewart Hardy, said Lux's growth in the oil and gas market would come from both home and abroad.
Its corrosion products detect and monitor the chemicals used to prevent water damage to pipes on offshore installations.
She said: "Corrosion in the North Sea is really key, especially with ageing infrastructure, but corrosion-inhibiting chemicals can also be quite hazardous and are currently being substituted for greener materials. In the Middle East, more water is created during operations, which means corrosion is more common, so that is another potential market for us."
She said the coming years would be key for Lux in gaining a foothold in its new market, adding: "We have found our niche, where we feel we fit in well. Now that we are on the right path, we need to stick to it."

Q&A: Emma Perfect
Who helped you get where you are today?
My family, partner, university tutor and the chief executive of Lux when I joined. They have all been people I have learned a great deal from.
What do you still hope to achieve in business?
I have enjoyed the challenges of working for a small, cutting-edge technology company. To do it again would be something I would be interested in, with more experience next time to help along the way.
What is your greatest business challenge today?
Helping Lux smoothly through a period of growth and transition from a R&D-focused company to one with a more significant sales and marketing emphasis.
If you were in power in government, what would you change?
More funding for science and innovation, particularly at a school level to inspire young people into science as a career.
Do you have any spare time and if so, what do you do?
My partner's photography pastime keeps us busy travelling around the country.
What are you reading, listening to or glued to on TV?
I'm re-reading some books in The Culture series by Iain M. Banks, which are a bit of a favourite.
If you were a character in a TV series or movie, who would you be?
I think Ellen Ripley (played by Sigourney Weaver) in Alien is an amazing character, although that would mean taking on aliens so maybe not.
What would your children or partner say about you?
They'd say I was focused, but rather forgetful and with a terrible memory. Certainly not someone to have on your Trivial Pursuit team.
Which charity do you support and why?
I don't support one specific charity. Mind, Shelter and the John Muir Trust all spring to mind.
What's on your bucket list; the things you still want to accomplish?
I would particularly like to go to Petra in Jordan to see the Al Khazneh temple.
Recommended for you

Oil on canvas: Protestors glue themselves to Kelvingrove artworks