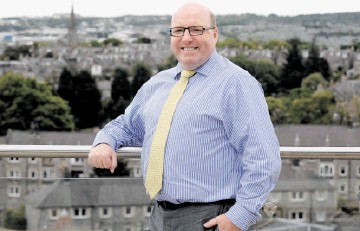 Wood Group's boss was inducted into the Entrepreneurial Scotland Hall of Fame at a ceremony in Glasgow last night.
Bob Keiller, the Aberdeen-based energy service company's chief executive, follows in the footstep of illustrious names like Sir Moir Lockhead, Donald Macdonald and Sir Ian Wood who have all received the accolade.
Established in 2002 to recognise exceptional leadership, the Entrepreneurial Scotland Hall of Fame recognises successful entrepreneurs who have made a major contribution to Scottish business life.
Last night's Entrepreneur of the Year ceremony was organised by networking group Entrepreneurial Scotland in association with professional services firm Deloitte.
It saw Peter Vardy of the Peter Vardy Group named Entrepreneur of the Year, as well as two organisations – the Saltire Foundation and Entrepreneurial Exchange – officially joining forces to form Entrepreneurial Scotland.
Chris van der Kuyl, chairman of Entrepreneurial Scotland, said: "Entrepreneurs are the greatest catalyst for change in any society.
"The creation of Entrepreneurial Scotland is a seismic development for every entrepreneur and business builder in Scotland, providing an exciting platform on which to build Scotland as the most entrepreneurial society in the world.
"An entrepreneurial mindset will unlock real value in government, education and social enterprises.
"Being entrepreneurial is fundamental to Scotland's future growth and prosperity, and we aim to engage actively on that agenda."
Deloitte partner Mike McGregor said: "Every year I continue to be impressed by the ingenuity, the commitment and the determination of entrepreneurs in Scotland and this year was no different.
"The quality of the 2014 finalists indicates the strength of business in Scotland."
Recommended for you

Opportunity North East hails extra £85m investment