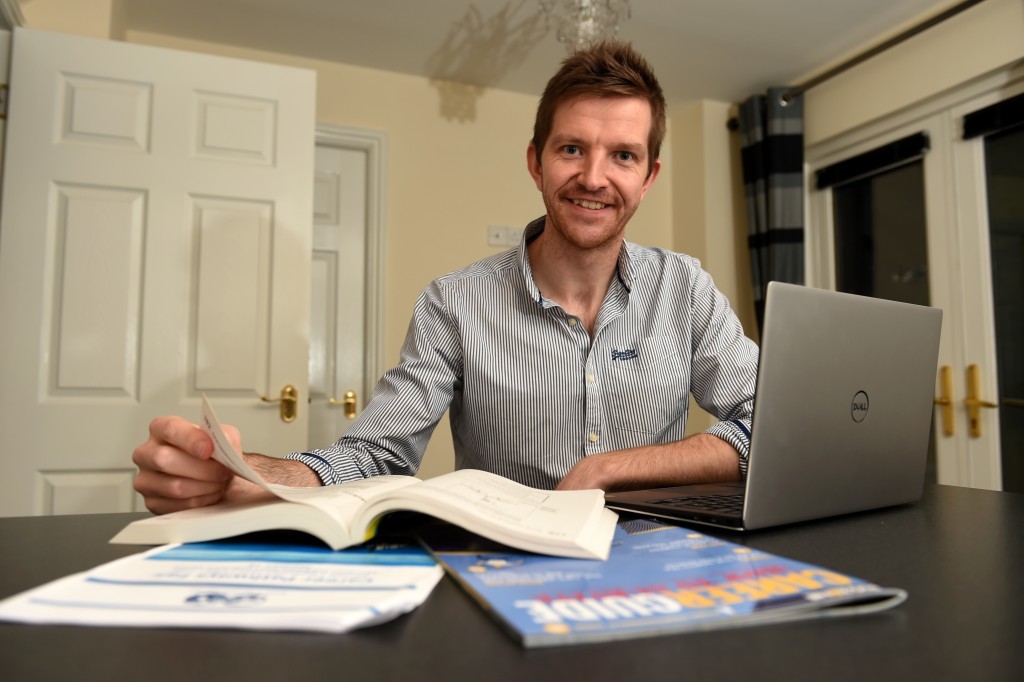 An Aberdeen engineer, made redundant during the recent oil industry contraction, has decided to return to further education as the sector confronts a new reality.
Employers have been inundated with hundreds of applications for advertised posts as people try to remain in the jobs market.
Aberdonian Chris Campbell lost his job as a field service engineer with a service company in June, having worked for his employer for nearly six years.
His story will be familiar to many who have lost their jobs in recent months.
After coping with the immediate impact, coming to terms with redundancy and loss of income, his thoughts turned to how he could find a job in the worst oil and gas downturn in a generation.
Chris, 31, had graduated with a first degree in Computer Network Management and Design in 2006 and enjoyed the well-remunerated benefits of being a qualified engineer in the oil industry. He travelled the world, working offshore and onshore and spent two years based in Malaysia.
When his employer broke the news he was to be laid off, he had to take stock, not least as he was about to become engaged and was making plans for the future.
Chris said: "Looking around what was happening in the industry, I had that gut feeling, but I was hoping it wouldn't happen as soon as it did. When it did finally happen it wasn't a huge shock, we were expecting bad news."
He immediately set about the task of reaching out to business associates, hoping to keep his period of joblessness to a minimum.
"I have a very good network of contacts and it soon became clear there weren't many opportunities. There were a couple of things internationally, but I was looking closer to home. The market was really difficult and I was prepared to take anything at the time.
"Improving my qualifications had always been a personal goal. I applied for a couple of university courses that would build on my background in IT but would also enhance the oil and gas engineering experience I have gained over the years," said Chris.
While doing the legwork visiting the stands of Offshore Europe in Aberdeen speaking to different companies, Chris received an offer from Robert Gordon University in Aberdeen for a place on its year-long MSc IT for the Oil an Gas Industry course. He also managed to secure a part-time job with Aberdeen-based Independent Data Services that will allow him to do work specific to his Masters.
"It's a technical course. It's not going to be a walk in the park, it incorporates a lot of oil and gas engineering and petroleum geo-science."
Industry bodies Oil and Gas UK and the Oil and Gas Authority have recently warned against the danger of losing skilled workers from the oil and gas industry.
Chris said: "I don't want to leave the industry. By going back to university I can improve my knowledge and it also allows time for the sector to adjust. I can also keep my options open with my IT background.
For many of Chris's generation, 2015 is the first time in their working lives they have had to deal with an economic downturn.
He said: "People are certainly feeling it and it's the first time they have come across something like this. A while back it would be unusual to hear of one-in-a-hundred being made redundant, now you meet people every day who have gone through it."
Professor Paul de Leeuw, director of RGU's Oil and Gas Institute, said skilled and experienced people would be vital for the industry when the upturn occurred. He added upskilling was always preferable to choosing to leave the sector.
He said: "I understand that if you have a family and mortgage you have to focus on immediate priortities, but I would urge people who have not experienced a down cycle to remain positive about the oil and gas industry. The downturn we are experiencing is a temporary issue, the world will need hydrocarbons for generations to come and we have to maintain the skills base to ensure we develop the industry in the future.
"There are many short term courses that can augment the skills you already have and will make you more attractive to employers when you add these qualifications to your CV. So if people are asking, 'Is it good to go back and upskill?' The answer is: absolutely."
University of Aberdeen saw an increase in the number of people choosing its part-time Project Management Masters, with nearly twice as many – 26 compared with 10 – choosing to the course in 2015 compared with 2014.
A University of Aberdeen spokesman said: "Through our Aberdeen Institute of Energy, the University offers a broad range of energy-related postgraduate study programmes, spanning a range of disciplines from engineering and geology through to business and law.
"As a University we are mindful of the challenges facing those working or seeking employment in the energy sector, and our range of postgraduate programmes – some of which offer flexible part-time study – offer an opportunity for people to improve their career prospects, either through retraining or by enhancing their current skill-set."
Recommended for you

North-east firms recognised at wind safety awards