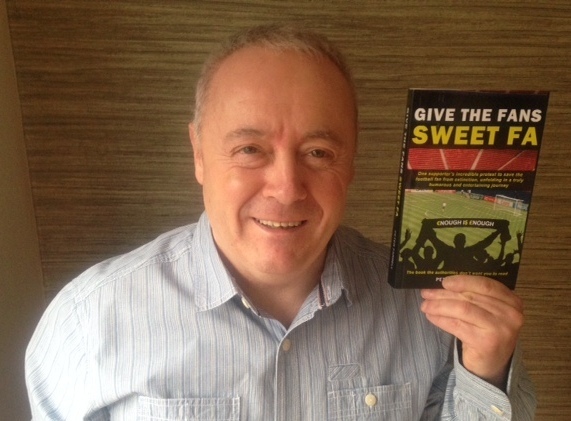 A grandfather from Merseyside has put his free time aboard North Sea rigs to great use by writing a novel about football that is attracting huge interest worldwide.
Peter Farrell's book, "Give the Fans Sweet FA", tells the story of its author's audacious quest to gain free entry to football matches during the early- to mid-90s.
Mr Farrell was protesting against skyrocketing ticket prices and a perceived lack of respect being show to fans at the start of the Premier League era.
On reflection, the 55-year-old concedes his mission achieved little, with more people being priced out of attending top flight football as the years pass.
But Mr Farrell does not regret carrying out his crusade, which helped raise significant funds for charity.
He said: "The protest proved to be the biggest and most terrifying challenge of my life and carried many risks. Because I felt so passionate about exposing the many injustices we fans face, I was determined to go through with it.
"It was a light hearted way of the fans having a laugh back, which involved getting a signed football from each ground I managed to get into, with the proceeds going to Children in Need."
The Everton fan had to try his hand as a master of stealth and disguise to get into the stadiums.
At one time or another, Mr Farrell masqueraded as a journalist, dressed up as a footballer, and pretended to be part of a famous person's entourage.
"Some clubs were more difficult to get in than others, but each one had its own story," Mr Farrell said.
Initially, Mr Farrell had no intention of writing a book about the protest, but was eventually convinced to do so by people who were captivated by his story.
He wrote the book over a three year period while working as a welder on oil rigs off the cost of Aberdeen, and travelling to many other parts of the world.
Though writing the novel was a relatively slow process, his surrounds did provide certain advantages which are not enjoyed by other authors.
And Mr Farrell said he is far from being the only offshore worker who indulges in creative pursuits while stationed offshore.
He said: "The camaraderie offshore is generally brilliant, with everyone looking after each other and being away for two or three weeks at a time provides a great opportunity to indulge in different interests you wouldn't normally do at home. For instance, I know many people who have learnt how to play a musical instrument and others who have even written songs."
The book has received a positive response since it was published last year, if the collection of five star reviews on Amazon is anything to go by.
Mr Farrell said the main reason for that success comes from constantly being asked whether he managed to gain free entry into every single premier ground, as well as how he actually did it.
His response is always the same: "Do you really want me to spoil the story for you when it's all in the book?"
Recommended for you
X

EV Insights: Energy Voice's End of Year Quiz 2015