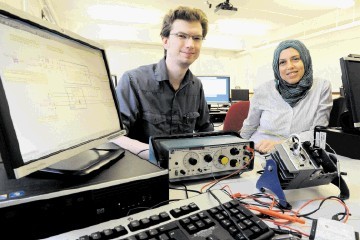 A NEW industrial instrumentation engineering programme is launching at Robert Gordon University's School of Engineering this month.
Thought to be a UK first, the School of Engineering's LabVIEW Laboratory (Virtual Instrumentation Engineering Workbench) Academy and Industrial instrumentation facility has been developed by academics over 18 months, in collaboration with industry and National Instruments (NI), a leading provider of software and hardware for measurement and control.
The programme is a tailored version of NI's LabVIEW Academy, and has been designed to bridge the gap between technology, academia and industry requirements in applied instrumentation.
It is aimed at all technological disciplines including civil, mechanical, electrical and biomedical engineering.
Upon completion of the course participants will have gained the necessary skills to take the Certified LabVIEW Associate Developer (CLAD) exam, conducted by NI.
The Robert Gordon University LabVIEW Academy is scheduled to be launched in two phases.
It will first be offered as a full-time fee-paying course for students who have completed their final year this summer.
In subsequent years, this will be brought forward so that students can join the course immediately after their exams.
The second phase will see the programme rolled out to industry in early 2012, offering engineering professionals the opportunity to undertake the programme in a full or part-time format.
Dr Gunti Gunarathne, a reader and technology consultant within the School of Engineering, said: "This new programme represents a significant move in bringing academia and industry closer together, and given the large industrial base in and around Scotland, Robert Gordon University is well placed to harness this opportunity for the benefit of all concerned."