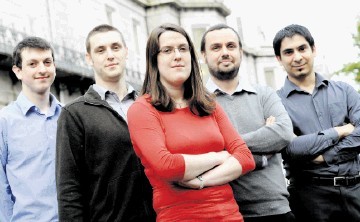 OIL and gas engineering consultancy Optimus (Aberdeen) announced yesterday the biggest intake of graduates in its 12-year history.
It has taken on five university graduates and one college leaver.
Five of them are being added to its 69-strong Aberdeen workforce, while a graduate of Chulalongkorn University joins its office in Thailand – taking staff numbers there to three.
The move comes as the first graduate Optimus took on, Mary Shepherd, attains chartered status from the Institute of Chemical Engineers and is promoted to senior process engineer.
The 26-year-old joined Optimus five years ago after gaining a masters in chemical engineering at Heriot-Watt University, Edin-
burgh.
She has returned recently from a month-long stint in Thailand when she helped to coach graduate trainee Satavee Summapo, 22, who studied chemical engineering and joined Optimus in April.
"I've always been interested in science, maths and making things," said Miss Shepherd. "Process engineering allows me to follow my interests every day.
"At Optimus, I've been exposed to a more wide and varied range of work at an earlier stage in my career than I may have done with a regimented training path or in a larger company. Due to the varied range of work I've been involved in, getting the relevant experience to become chartered was much easier."
Gary Kemp, who turned to the energy industry for work amid the downturn in construction, is among the new Aberdeen graduates that Optimus has hired.
The 34-year-old, who studied construction, design and management at the Robert Gordon University, is now a projects co-ordinator at Optimus.
"When I started university, the construction industry was still booming, but that wasn't the case when I graduated this summer," he said.
"I always wanted to follow a path that might lead to project management, and it's great that Optimus has given me this opportunity. In the future, I hope to be given more responsibility and become part of more projects."
Ian Bell, founder and director of Optimus, said the company felt it had a "duty of care".
"We want to give youngsters coming into the industry the opportunity to get started, and we're passionate about mentoring them," he said.
"We also want to ensure we address the issue of succession planning. Our workforce is big on experience and we have to make sure we have good people coming in behind them."
Recommended for you
X

State-owned oil firm eyed up BP's assets in North Sea