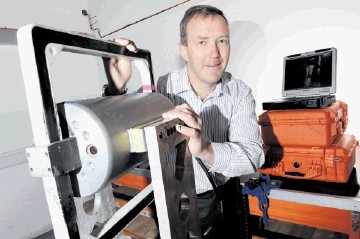 EV, A small UK company offering hi-tech camera-based remote inspection services to the oil and gas industry, expects its turnover to hit £7.5million this year.
In the 12 months prior to Lime Rock's £6million ($10million) investment in the business a year ago, the firm turned over just £1million.
Francis Neill, chief executive, told Energy that the firm was mushrooming in Aberdeen and Norwich, with some 46 on the payroll and counting. Not only that, its network of offices is also growing.
"We have an agreement with Aker in Norway, so we provide equipment and support to that company; we have our own operational bases in Louisiana, Teas and Colorado, and we're opening in West Virginia. We're also doing our first jobs in Malaysia at the moment," said Mr Neill.
"We're opening up in Canada and hope to be operational there by October, and also in West Virginia for working on Marcellus shale wells."
The US market is seen as especially important because of the burgeoning shale gas extraction industry, which involves the drilling of many thousands of horizontal wells that at some point require intervention.
The business is split into two parts. One is wellbore, which is the bulk of the business and is about deploying cameras on drill-pipe, slickline, e-line and coil – any kind of intervention.
"Then we have our other bit which we call facilities to seabed, where we've literally just done the world's first wireless subsea camera job in the US Gulf of Mexico," said Mr Neill.
"We've put cameras inside risers, caissons, and are inspecting and leak monitoring anywhere that's difficult to get to. This is not hand-held camcorder stuff; this is about getting very sophisticated cameras into tough locations.
"Cameras used to have a bad reputation because they never worked. But technologies have moved on."
So too has the willingness of some operators to accept that fact.
A North Sea operator recently risked the use of an EV system to inspect a blow-out preventer from within, following evidence of metal finings in fluids reaching the surface.
The alternative would have been to kill the well and pull the whole completion (to the surface).
EV has carried out a similar job in the US Gulf of Mexico and is hopeful that it will sign a long-term contract with BP covering semi-submersible drilling rigs used in the North Sea.
On the research and development front, Mr Neill said EV expects to spend about £750,000 this year and for the next two to three years.
Projects include developing cameras that can cope with high pressure/high temperature wells; and also developing next generation cameras and transmission systems that will enable the transmission of full-colour video up an e-line.
"No one can do this and we're a few months from going commercial with this," said Mr Neill. "To get to this level of technology the key issues are transmission speeds, the ability to compress the data – it is quite a technical challenge to get video up from the bottom of a wellbore."
Recommended for you
X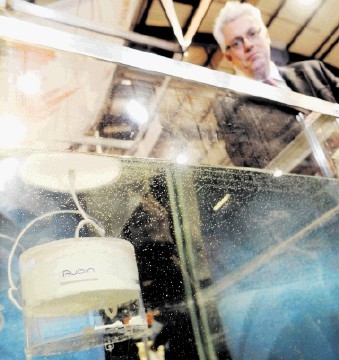 Gel Lift System prepares for lift-off