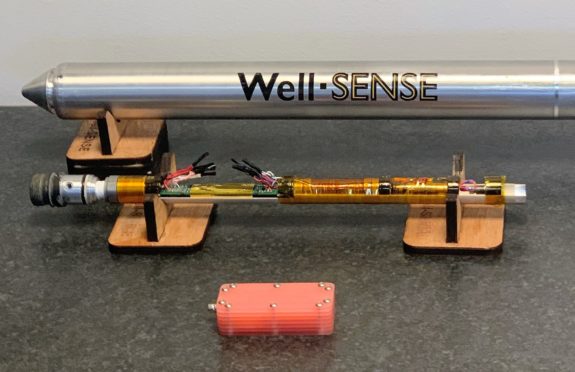 A north-east oilfield technology firm has deployed a modified version of its pioneering well-intervention device for cash for the first time.
Well-Sense's FiberLine Intervention (FLI) tool has already brought in a six-figure sum for the Aberdeen-headquartered company.
And its "Active-FLI" device has now brought in a fee after being used for an onshore well survey in Texas by an unspecified major.
FLI comprises a small probe which lays bare optical fibre in the well to instantly collect and transmit data.
The Active-FLI version is equipped with a package of electronic and optical sensors that capture single-point readings along the wellbore.
Well-Sense, part of FrontRow Energy Technology Group, said the tool could deliver results 50-75% quicker than wireline alternatives and could slash costs by up to 90%.
The global downhole well measuring and monitoring market is worth about $2.5 billion a year.
Well-Sense believes the addition of sensor measurements through Active-FLI opens the company to more than 30% of this market.
In its first year, the technology is expected to bring in opportunities for a seven-figure sum for the firm.
Craig Feherty, chief executive of Well-Sense, said: "Our FLI systems can deliver rich and accurate well data quickly and cost effectively.
"They are small and easy to ship and only require one person to operate.
"For this project, from the initial enquiry, through to product manufacture in the UK, delivery to the US, deployment and completion, with a final report submitted to the client, it took just six weeks.
He added: "FLI's success in Texas validates our Active technology in terms of system reliability, data accuracy and quality, and confirms that our package of sensors are eminently suitable for conventional oil and gas applications.
"We have an exciting time ahead, with a number of commercial deployment opportunities in the pipeline plus further R&D planned to add to the product portfolio.
"The ever-increasing interest we are receiving from industry supports our belief that this technology is a real game changer."
Recommended for you
X

Crew change in Gulf Cooperation Council