Britain's first Industrial Doctorate Centre in Renewable Energy (IDCORE) is seeking UK-based engineering companies to provide engineering doctorate students with projects to work on.
IDCORE, which is run by the universities of Edinburgh, Exeter and Strathclyde, is looking for renewable energy companies or those in the sector's supply chain to provide projects and project placements from Easter 2013 for up to three and a half years.
The centre, largely funded by the Energy Technologies Institute (ETI), needs projects for the second tranche of engineering doctorate students due to begin their training in September.
The first five students began their training in January and will start their placements in the summer with ETI member companies.
David Clarke, chief executive of the ETI, said: "Participating companies will benefit significantly through providing placements.
"Not only will it provide companies with highly-qualified and able specialist students, it will provide opportunities to network with a range of blue-chip companies, academic and research bodies.
"It will also provide opportunities for collaboration and coordination of research efforts across the renewable energy sector and give access to world class research facilities."
Professor David Ingram, IDCORE's programme director said: "This initiative provides an unrivalled opportunity for companies to work closely with leading research universities in the sector and to host highly qualified, motivated and enthusiastic students.
"Our initial intake of students have demonstrated that they are more than capable of stepping up to the academic challenge we have set them and I am certain that the companies they work for will gain maximum benefit from sponsoring them."
The research engineers will remain placed with companies for 42 months, working on a single research project or on several linked projects.
Engineering Doctorate students will have completed the initial taught component of the programme before beginning their placement.
The training programme covers principals of offshore wind, wave and tidal energy systems as well as project management, economics and environmental assessment.
The students are recruited through a rigorous selection process involving the industrial project sponsors.
Students come from a diverse background ranging from undergraduate engineering degrees to graduates of both UK and European masters programmes and industrial experience.
For more details go to www.idcore.ac.uk or contact Professor David Ingram via david.ingram@ed.ac.uk
Recommended for you
X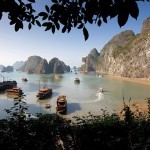 eDrilling signs MOU agreement with Petrovietnam University
Read the latest opinion pieces from our Energy Voice columnists