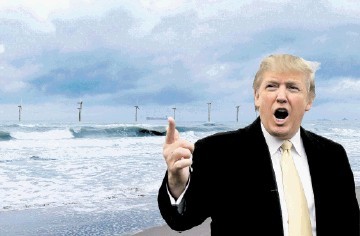 The Aberdeen offshore demonstration has been in gestation for a decade and Aberdeen Renewable Energy Group (AREG) deserves enormous credit for sticking with it through thick and thin, supported by EU investment.
One reason Donald Trump's phobia towards the development has been difficult to understand is that it was conceived of long before he opened his golf course. The two are perfectly capable of
living in harmony.
The Scottish Government will talk up Vattenfall's investment as proof that offshore wind is alive and well in Scotland.
However, like the Beatrice development, this is a legacy project in a favourable location, with funding secured.
Earlier this week, the RSPB won hands down in its appeal against Scottish ministers' consent for four large projects around the Firths of Forth and Tay.
In terms of offshore wind creating the long-promised "second industrial revolution" for Scotland, this is of massive significance and should be addressed as such.
The question for ministers is: "If none of these go ahead, what follows the two legacy projects – Beatrice and AREG?".
As it is, only one of the four – Neart na Gaoithe (in the Forth estuary) – has secured funding under the Contracts for Difference subsidy mechanism.
If there is to be an ongoing Scottish offshore wind industry, ministers must work to salvage something from (appeal judge) Lord Stewart's devastating critique of how they failed to follow proper processes, even though it took so long to deliver an outcome.
So well done AREG, but you can't build an industry around 11 turbines and, of course, that was never the intention.

Brian Wilson is a former UK Energy Minister
Recommended for you
X

Protesters storm headquarters of Oil and Gas UK