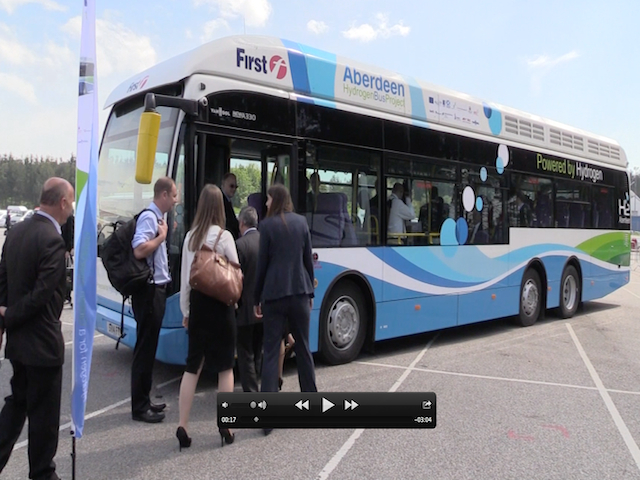 Concerns have been raised that the Scottish Government could put the brakes on an Aberdeen City Council bid to expand its fleet of environmentally-friendly vehicles.
The local authority's 10 hydrogen buses, which produce only water vapour and no harmful emissions, are almost four times more fuel efficient than their diesel equivalents.
The £21million fleet travelled more than 250,000 miles in its first year, and is the largest of its kind in Europe.
Now the council is seeking to potentially expand its battalion of buses to 30 as part of efforts to decrease Aberdeen's negative impact on the environment.
But fears have been raised that without £3million of funding from the Scottish Government, the council's hopes for creating an entirely hydrogen-fuelled bus route could go up in smoke.
The Joint Initiative for Vehicles across Europe (JIVE) – a scheme aimed at doubling the size of Europe's fuel cell bus fleet – has briefed Aberdeen City Council that the Scottish Government could potentially pull out of supplying the cash required.
The briefing said: "The initial feedback from Scottish Government is that this is unlikely to be provided."
Councillor Barney Crockett, chairman of the local authority's European hydrogen and electro-mobility projects, said: "We need the Scottish Government and everybody to back this development, it's important for everybody in this area."
A spokeswoman said the Scottish Government is still in talks with local authorities regarding the funding.
She said: "We are currently in discussions with the Scottish Cities Alliance regarding match funding for future projects."
Recommended for you
X

Iraq balks at joining OPEC cuts, making oil output deal harder