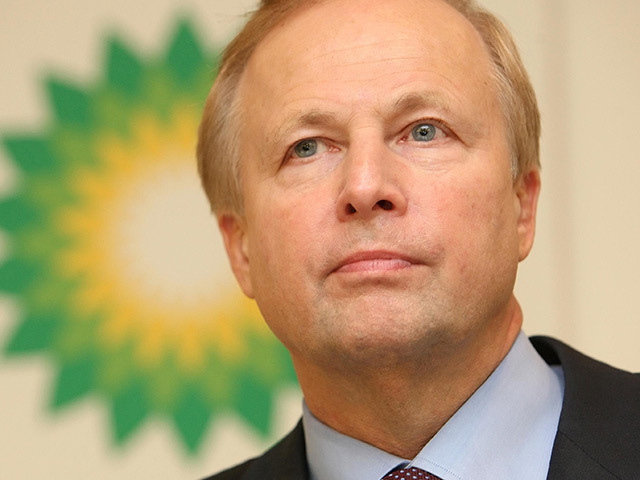 Oil will continue to reign supreme in the global energy mix, according to BP chief executive Bob Dudley.
The oil boss, whose company once adopted the tagline 'Beyond Petroleum', said there is no substitute for "that liquid bundle of hydrocarbons".
"The world produces and uses about 94million barrels per day," he said.
"There's not that much extra surplus capacity to produce. The world will probably grow by in terms of use of oil 1.3 to 1.5million barrels of oil each year," he said.
"If you did a survey I think people would say 20% of the world is supplied by renewables.
"In fact, it's 3%. I keep track of what I call the Rule of 27. Coal, natural gas and oil each supply about 27% of the world's energy mix.
"What will happen over the next 20 years is you will see natural gas replacing the coal, renewables will go up, but oil will be the primary transportation fuel, because that little liquid bundle of hydrocarbons has such dense energy that there's really not a substitute for that.
"The world will have two billion more people by 2035. The world will need about 35% more energy than it has today and that's a lot. And all of that growth will come from China, India, Indonesia and Africa.
"Demand for energy probably won't go up at all in Europe or the US, because they'll be more efficient. But there's a long-term case for oil and natural gas."
His comments come after former BP boss Lord Browne said the oil and gas industry must "radically engage" with renewables if it still wants a seat at the energy-negotiating table.
The former BP leader said the sector was facing an "existential threat" from climate change.
Dudley sat down with Energy Voice in his first trip to the region in five years.
He revealed how the operator would more than double its daily North Sea production after more than 10 years of decline. Read more here.
Recommended for you
X

We can't lose another generation like the 80s, says Dudley