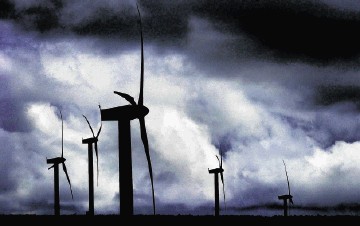 Scotland's biggest windfarm features front and center in a series of stunning images entered into a national competition.
Amateur photographer Phyllis Buchanan from Newton Mearns, in East Renfrewshire, snapped the winning entry into ScottishPower Renewable's Instagram contest.
The competition challenged budding photographers to submit their most impressive pictures of Whitelee Windfarm.
The renewable energy development, which has more than 200 turbines, is the UK's largest on-shore wind farm and is generally considered the most photographed in the country.
It is situated just 20 minutes away from Glasgow city centre and was officially opened by then First Minister for Scotland Alex Salmond.
The competition attracted around 350 entries from visitors to the windfarm who had come from around the globe.
Phyllis' winning entry features her daughter Amaia, aged 7.
She said: "We're absolutely thrilled to have won, especially my daughter, Amaia, the star of the shot. She's been telling all her friends she's famous.
"We love going up to Whitelee as a family, it's a beautiful part of the country and the kids just love it, no two trips are ever the same. We take pictures every week so it's brilliant to say they're now competition-worthy, it's certainly a surprise."
Recommended for you
X

Unions accuse employers of 'savage attack' on terms for offshore caterers