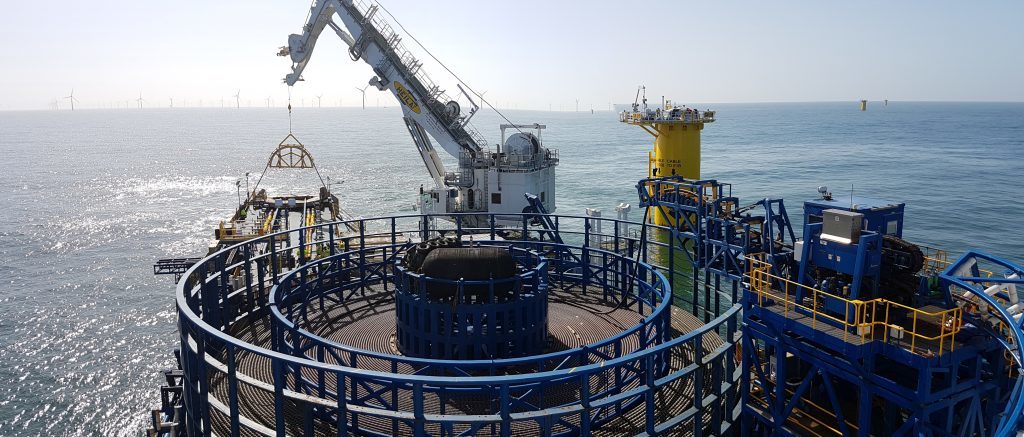 A stunning picture of the first array cable being laid at a new wind farm off the coast of East Anglia has emerged.
The photograph was captured by Rebecca Somers of Innogy Renewables UK Limited, one of the project partners.
The photo shows the Stemat Spirit installing the cable with a Galloper foundation and Greater Gabbard turbines in the background.
Hartlepool-based JDR Cables designed and manufactured the cables.
The Galloper wind farm is a 336MW generating project, currently being constructed 30km off the coast of Suffolk.
According to the project website, the wind farm is expected to be fully operational in 2018, generating enough power for up to 336,000 homes.
Around 700 UK jobs are being created during the construction of the wind farm, and 90 long-term east coast jobs will be created, once it is operational.
Development and construction is being led by innogy SE on behalf of the other project partners, including UK Green Investment Bank, Macquarie Capital and Siemens Financial Services.
Galloper Wind Farm Limited (GWFL) is a joint equity partnership of 25% each between Innogy SE, UK Green Investment Bank, Siemens Financial Services and Macquarie Capital. Innogy SE is leading the development and construction of the project on behalf of the project partners
Recommended for you
X

Robert Gordon University teams up to offer diver training