Welsh authorities have given Swedish firm Minesto permission to install one of its Deep Green tidal energy devices off Holyhead.
Gothenburg-headquartered Minesto said Deep Green was the world's first low-velocity tidal energy project.
The turbines, which are similar in appearance to small planes, are tethered to the seafloor but can move around like kites.
Minesto, which also has bases in Holyhead and Portaferry, Northern Ireland, will install one of the 0.5 megawatt devices along with a seabed foundation and surfaced-moored buoy later this year.
Aberdeen energy engineering consultancy Xodus Group carried out the EIA and delivered the marine licence application, which has been granted by Natural Resources Wales.
Minesto said the first device would be used to demonstrate the technology's commercial potential.
If successful another 19 could be installed at the site, four kilometres off the coast of Anglesey.
Ylva Sörqvist Hultgren, site development manager at Minesto said: "We are very pleased to have been awarded consent for our first installation of the Deep Green technology in Holyhead Deep.
"This first step of implementing our unique technology in commercial scale is obviously an important one, and it is therefore satisfying to have reached this milestone."
James Monnington, lead environmental consultant at Xodus Group, said: "We have developed specialist expertise in environmental impact assessments for renewable energy and tidal projects, so greatly welcomes the Holyhead Deep consent which will allow Minesto to deploy and assess its innovative Deep Green technology."
Recommended for you
X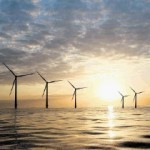 Jeremy Cresswell: Scrapping low carbon energy subsidies ... is it that terrible?