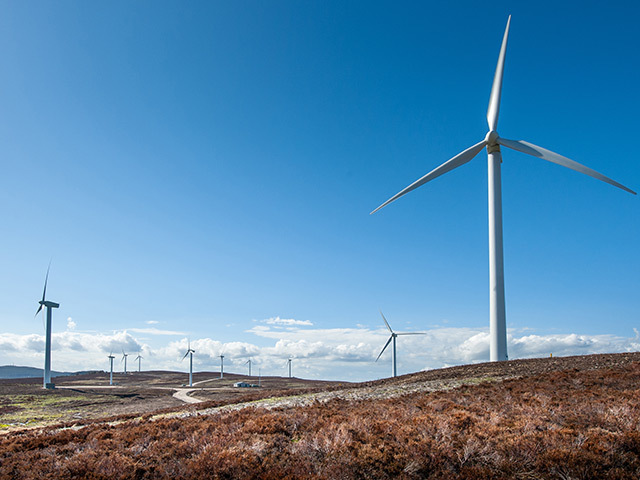 A UK Government consultation has been launched today to alter the definition of remote island wind energy in an effort to encourage investment.
Part of the new consultation from the Department of Business, Energy and Industrial Strategy (BEIS) will include proposals to allow smaller island wind projects to compete in future Contract for Difference (CfD) auctions.
In order to enable remote communities to compete, it's being proposed that the definition of island projects should be distinct from that of their mainland neighbours.
As the consultation points out, many remote wind projects have high transmission costs and load factors which make them different from projects on mainland UK.
The new government proposal would seek to consider remote island wind projects as a separate and distinct technology, therefore allowing them to compete in CfD auctions.
A further consideration of the proposal is that island projects would be set their own individual strike price, separate from the UK.
UK Government Minister for Scotland Lord Duncan said: "Wind projects in the remote islands of Scotland have the potential to generate substantial amounts of electricity and cut emissions, supporting economic growth and delivering lasting benefits for communities.
"Enabling these projects to compete in future auctions will reinforce the UK's position as a world leader in renewable generation, as well as providing Scottish jobs in any projects supported.
"I urge local communities, developers and other stakeholders to work together to ensure that such projects deliver lasting benefits to the islands."
The consultation will also propose that protections are put in place to ensure that any new scheme to boost island wind projects does not excessively impact consumer fuel bills.
UK Energy Minister Richard Harrington said: "We've placed clean growth at the heart of our new Industrial Strategy. We are cutting emissions while keeping costs down for consumers, creating high value jobs and growing the economy.
"We are delivering on our commitment to support remote island wind projects, which have the potential to benefit local communities."
Angus MacNeil, MP for Na h-Eileanan an Iar, said: "It is good that the CfD consultation is underway, it is something we have been looking at for a while.
"Minister for Energy and Industry Richard Harrington MP has kept his word since I spoke to him in July, progress is being made as planned and we are looking forward to this leading to the auction round in spring 2019. At a meeting last week with the Department for Business, Energy & Industrial Strategy I was assured that all islands had a big part to play in that."
Emma Pinchbeck, RenewableUK's executive director, said: "We welcome the Government's proposal to include remote island wind in the next auction for renewable power contracts. Island wind, like other renewables, is massively popular with the public and is a home-grown form of clean power.
"The Government has also said that it is considering ending the effective ban on new onshore wind in other parts of the UK that want it, because it is the cheapest form of new power available, and all UK consumers would benefit from new sites.
"As this consultation into island wind shows, it is possible to make evidence-based changes to policy when the need arises. Government should allow all technologies the chance to compete, and make 2018 the start of a new golden age for British renewables, so that our world-class wind industry can harness our plentiful natural resources for the benefit of UK bill payers and for the planet".
Recommended for you
X

Former Russian minister found guilty of taking huge bribe