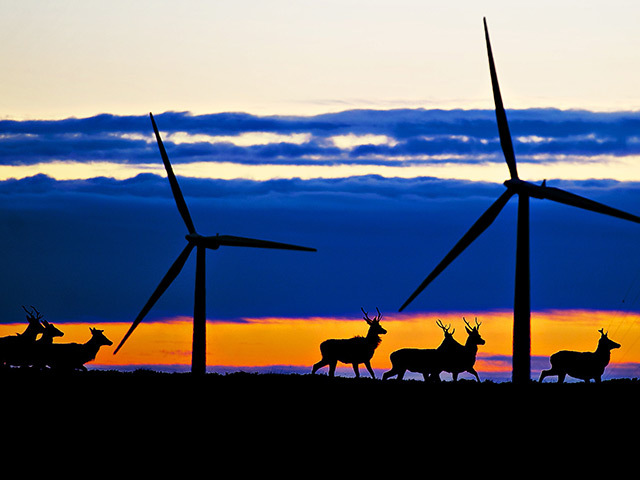 Scottish renewable energy generation has seen a 19% rise between 2017 and the same period last year.
New figures released by the UK Government today reveal the growth in Scottish renewables with it accounting for 42.9% of total Scottish energy generation in 2016.
In the UK, Scotland generated 24% of the total renewable power used.
These will be welcome figures for the Scottish Government, who released Scotland's first Energy Strategy yesterday.
Within the strategy, the Scottish Government announced a £20million Energy Investment Fund, designed to build on the renewables sector in Scotland.
A £60million Low Carbon Innovation Fund was also announced yesterday.
Mr Wheelhouse said: "Today's very encouraging statistics show that Scotland is on track for a record year of renewable electricity generation, and that our renewable energy sector is stronger than ever. This reflects our commitment to clean, green energy investment, and we will continue to support the renewable energy sector to grow further in Scotland.
"Yesterday, I published our Energy Strategy setting out Scotland's Energy Future for the period to 2030 and beyond. The strategy recognises and builds on our achievements to date and on Scotland's capacity for innovation. We are leading the way in promoting community and locally owned renewable energy – well ahead of the rest of the UK – and these figures are further proof of that.
"The future for renewable energy is bright in Scotland and these figures show that well over 50% of our electricity consumption was delivered by renewables and we now know capacity and generation figures for the first three quarters of 2017 are very strong.
"A low carbon economy is not just a practical way forward and renewable energy affects a very large share of our greenhouse gas emissions, but Scotland's clean, green energy resources are now playing an increasingly crucial role in the security of Scotland's energy supply."
Dr Sam Gardner, acting director of WWF Scotland said: "It's fantastic to see that 2017 looks set to break new records for renewable electricity generation in Scotland.  In 2016 we met over 50 per cent of our total electricity demand from renewable technologies and we look set to smash that this year.
"This excellent news comes hot on the heels of the welcome commitment from the Scottish Government to meet half of all our energy needs from renewable sources by 2030.  This strong ambition marks a huge transformation in not only how we power our economy but also how we will heat our homes and drive our cars.
"Today's figures are built on the policy certainty and vision from successive Scottish Governments and show renewables really are powering the economy, creating new jobs and cutting our climate emissions.  As we turn towards 2018 we need to continue to build on this fantastic progress and tackle our heating and transport sectors that remain dominated by fossil fuels."
Responding, Claire Mack, chief executive of Scottish Renewables, said: "Scotland's renewable energy industry is doing exactly what it was designed to do – creating reliable clean energy and skilled jobs, attracting investment and helping reduce the amount of damaging carbon emitted by polluting fossil fuels.
"These new figures show that the industry, as Scotland's biggest producer of electricity, continues to go from strength to strength, benefitting both our economy and our environment.
"The publication of Scotland's first Energy Strategy yesterday, and the inclusion of a new renewable energy target within it, sends a strong signal to industry that renewables should now take its place at the heart of our economy."
Recommended for you
X

Greencoat Renewables snap up Irish wind farm for £78.5million