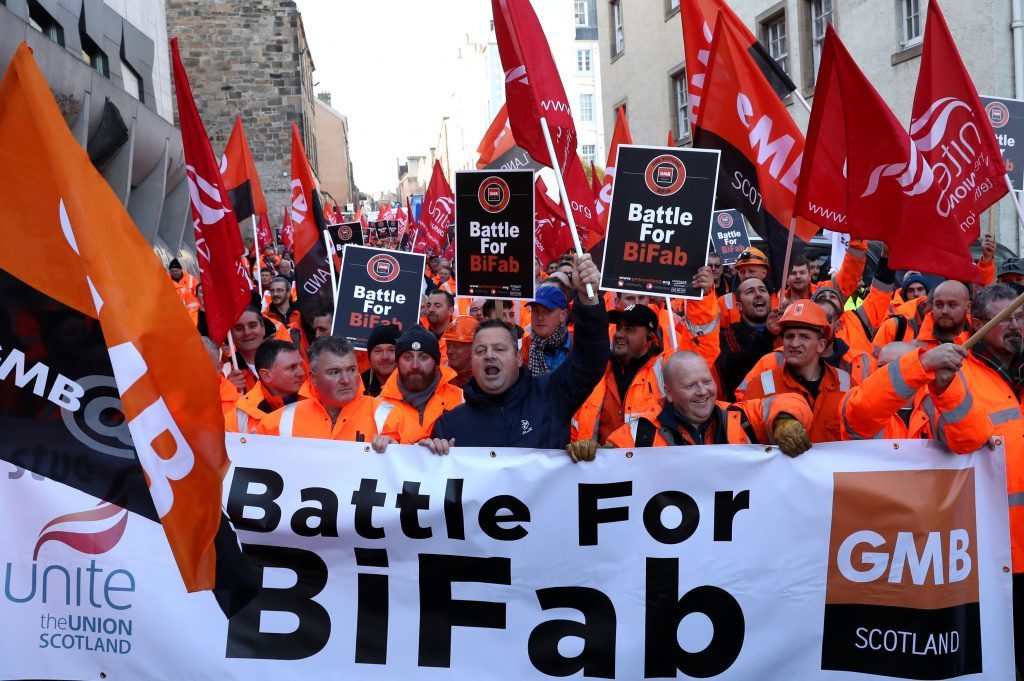 GMB Union boss have said they are not resigned to the closure of BiFab yards or the loss of jobs, but that next week's Scottish Government meeting is make or break.
Unions have warned that 260 workers could face redundancy by summer at the Arnish, Burntisland and Methil yards.
BiFab management alerted the Scottish Government yesterday that it was issuing its core workforce with a 45 day notice period.
Despite GMB saying that "all is not lost", the union also accepted next week's meeting with the Scottish Government is "a crunch meeting" for the beleaguered renewables supply-chain firm.
The Scottish Government also issued a statement pledging their support and reiterated that they will continue to "secure a long-term future for the company".
In a statement BIFab said: "As we approach the end of the current project – and no further work is currently secured beyond, BiFab are going through a natural down-manning process and as such, through our statutory obligation we issue HR1 forms to notify the government of potential redundancies to permanent staff, where numbers proposed could exceed 20 employees.
"Issuing of the HR1 is part of the collective consultation process to inform staff about potential planned redundancies and not a decision that redundancies will take place.
"This type of action is typical to previous positions we find ourselves in being a project orientated-type organisation."
The BiFab crisis originated last year as a dispute arose involving the company and the Dutch-owned contractor, Seaway Heavy Lifting (SHL) over a particular payment.
Unable to settle the debt, the Scottish Government stepped in with a £15million loan to support the firm to allow it to honour contracts and retain its workforce.
Last month, further issues surfaced as it became known that the company was being sued by its German business partner, EEW.
Alan Ritchie, GMB Scotland organiser, said: "The battle for BiFab continues. All is not lost and there is still hope but time is of the essence.
"Next week, we have a crunch meeting with the Scottish Government and thereafter we will have a better understanding about new investment coming into the yards and the long term future.
"We have always been clear that our yards should not be struggling and what we need is an industrial strategy to end the feast and famine in contract work that plagues our manufacturing sector.
"There is also a long-term responsibility on our politicians to ensure that never again does our manufacturing sector end up with less than three per cent of the value from a £2.6 billion infrastructure project.
"But the immediate challenge is straightforward: All parties involved need to pull together again to defend these workers and their communities because letting them go under is not an option."
Bob McGregor of Unite added: It's clear that time is running out now. Surely it's not beyond the company, its partners, the unions and the Government to seek out a solution to the latest crisis brought on by a lack of orders for new work. That's the only way we can avoid these areas being transformed into an industrial graveyard."
Paul Wheelhouse, Business, Innovation and Energy minister, said: "The Scottish Government has offered support to BiFab to allow work to continue on the contracts for the Beatrice offshore wind farm development through a loan facility, and has been fully focussed and working intensively to secure a long-term future for the company.
"We recognise this will be hugely concerning for the workers affected, their families, and wider communities, and we stand ready to provide support through our Partnership Action for Continuing Employment (PACE) initiative.
"We understand from BiFab that the proposed number of employees is being reduced in line with programmed contract performance and completion which reflects the cyclical nature of the business and employment patterns. By providing skills development and employability support, PACE aims to minimise the time individuals affected by redundancy are out of work.
"Ministers recognise that more work remains to be done to secure the long term future of the company and are fully committed to offering support where possible to attract long term investment in this vital sector of the Scottish supply chain and economy."
Recommended for you
X

BP announces Ariel Flores as new North Sea head