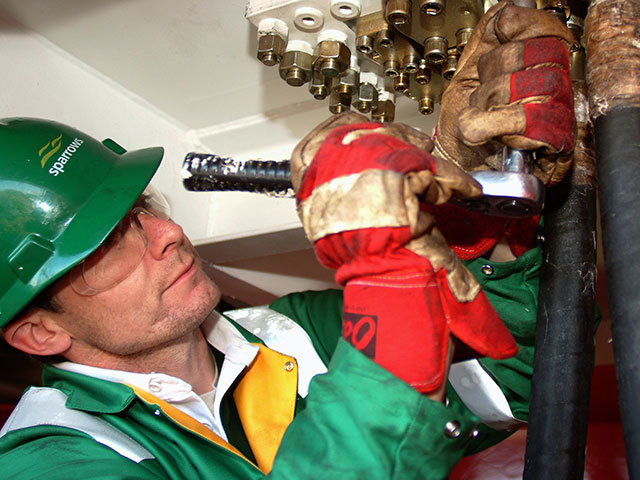 Aberdeen engineering firm Sparrows said it is taking the knowledge it has gleaned from oil and gas and setting its sights on offshore wind projects closer to home.
With a number of big developments in the north-east due to kick off shortly, the provider of specialist offshore equipment says it is looking to shift into Scotland's renewables supply chain at pace.
Yesterday, Sparrows invited MP for Gordon, Colin Clark, to its yard in the Bridge of Don to showcase the UK's first WindMaster luffing crane built for the offshore wind industry.
They said they hoped to demonstrate to the MP how serious the firm is about transitioning into renewables by using what it's learned from oil and gas.
Matt Corbin, Sparrows' director of European operations said: "When we look at the future offshore wind developments that are going to happen the Moray Firth we want to make sure that there is cognisance of what we can add to the industry. If it's made in Scotland then we can obviously hire more people and take on more apprentices.
"Mr Clark is here to understand a bit more about our business and what drives us. We've talked about how we could grow in offshore wind, we've talked about and the potential issues ahead. We've got to make sure we have as fair a playing field as possible. It's important for a politician to understand what makes the difference for us."
Sparrows is currently fabricating a section of 102 cranes which will be used for each one of the East Anglia One development's turbines.
Once built, the cranes will be moved to the huge project which will generate enough electricity to power the equivalent of half a million homes when completed.
The firm is looking to be a one-stop-shop for offshore wind developers, providing the full range of services from foundation to standing structure.
Mr Corbin said: "Our real strength is that we provide a range of services today for oil and gas platforms, whether that is mechanical, hydraulic, electrical or structural. We think that all of those services could be very useful in an offshore wind platform.
"Rather than have multiple companies doing different jobs, we can come along and provide a full turnkey service from the jacket up."
Conservative MP for Gordon, Colin Clark, said he was excited to see the expertise borne in the north-east oil and gas sector shifted into offshore wind; something which could invigorate the north-east offshore sea after the oil downturn.
He said: "The biggest asset of the North Sea – beyond oil – is going to be wind power and I'm delighted to see a project like this. Instead of these cranes being built somewhere else, they're being built in Aberdeen and in the constituency of Gordon, which is brilliant.
"The oil and gas industry has gone through years of a downturn but the majority of the industry now thinks we're now through that, and we're starting to see it tick up.
"I think offshore renewables is an enormous opportunity. We're already seeing that offshore is predicted to be competitive with other forms of electricity generation over the next five to ten years."
Asked whether he thought the Scottish supply chain had a bit of catching up to do to keep up with the pace of commissioned developments and new wind farm constructions in Scotland, Mr Clark said: "I think what's interesting is when you compare it to decommissioning. Two years ago we were told that it was all going to be overseas and now it looks like the money, the value, is going to the UK and predominately the north-east.
"We're catching up in renewables and this is a brilliant example of a local company using local suppliers. If the north-east is anything its innovative, you can never write off the north-east."
Recommended for you
X

WATCH: World's second-largest crane vessel heads for North Sea windfarm