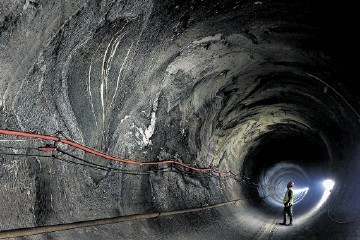 An energy firm's successful £100 million-plus compensation claim following a tunnel collapse at a Highland hydro-electric scheme is to go to Britain's highest court.
SSE Generation took legal action against contractor Hochtief, the company that designed and built the underground passage at the Glendoe site near Fort Augustus between 2006 and 2008.
In 2016, a commercial judge at the Court of Session in Edinburgh ruled against SSE in the substantial part of their claim – but awarded £1 million to reflect the period when the scheme was out of action.
But after an appeal by SSE to three judges, they ruled in favour of the firm earlier this year by two to one in their legal challenge.
It was ruled that the firm should be awarded in excess of £107million over the cost of the recovery project along with a further £1million damages.
Hochtief applied to appeal the case to the UK Supreme Court and yesterday Lord Carloway, sitting with Lord Menzies and Lord Glennie, granted permission for the move.
Kenny McBrearty QC, for Hochtief, argued that the action raised matters which met the test of general public importance and that guidance was required from the Supreme Court.
Mr McBrearty argued that it had lost "very narrowly" with judges being divided 2-2 over the two hearings at the Court of Session.
Gerry Moynihan QC, for SSE, asked the judges to refuse the motion for permission to appeal and maintained that issues of general public importance were not raised.
The scheme was officially opened by the Queen on June 29 in 2009 when the turbine initially failed to start.
The following day engineers heard thumping noises and it was later found there had been a progressive collapse of the tunnel.
Both parties accepted that the appropriate remedy was to construct a bypass tunnel but Hochtief said in a letter that they did not consider they had any liability or obligation to carry out the remedial work at their own expense.
Another contractor was brought in and works were completed in August 2012 when the scheme began generating the required amount of energy, producing pounds 20 million in annual revenue.
Lord Glennie said in his appeal judgement: "I have come to the conclusion that the pursuers (SSE) have made good their case that the cause of the collapse was a defect which existed at take over, in that a part of the works, viz the HRT, was not in accordance with the works information, viz the requirement for a tunnel with a design life of 75 years."
He said the defect was not a design one but rather in the implementation of the design and added: "It was that failure in implementation of the design which resulted in the fact that the tunnel on hand over did not have a design life of 75 years."
Recommended for you
X

Energy secretary, citing cyber threat, says Trump is 'right' on coal, nuclear closures