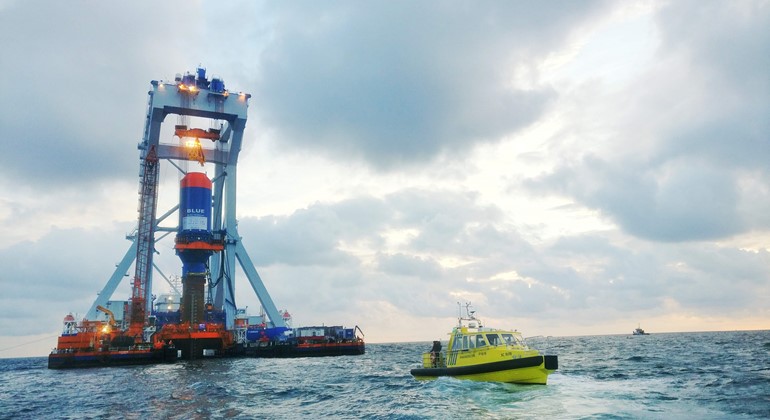 A low noise "hammer" for driving foundation piles into the seabed for wind farm developments has been successfully tested off the Netherlands.
The Fistuca Blue 25m Hammer was trialled as part of the Offshore Wind Accelerator Blue Pilot project, which involves the Carbon Trust, Fistuca, E.ON, EDPR, EnBW, Equinor, Ørsted, Shell, Sif, SSE, Van Oord, and Vattenfall.
The offshore test was carried out on August 13 using Van Oord's offshore heavy lift installation vessel, Svanen.
The Blue Hammer uses a large water tank to provide a more energetic, but quieter blow for offshore installation.
It is designed to reduce underwater noise levels by up to 20 dB, and is expected to reduce the fatigue damage during installation on the pile by up to 90%.
Fistuca managing director Jasper Winkes said: "It was great to see the hard work of many years finally delivering these good results on a full scale. We are very grateful for the endorsement of our investor Huisman Equipment, the Dutch Government and all the Blue Pilot Project partners that made this possible."
Michael Stephenson, project manager for the Carbon Trust, said: "The test is another step forward in the Blue Pilot project and we are excited to see the results of the offshore measurements and help further bring this essential innovation to the offshore wind market."
Recommended for you
X

Plant Integrity Management celebrates £2m of 2018 contract wins