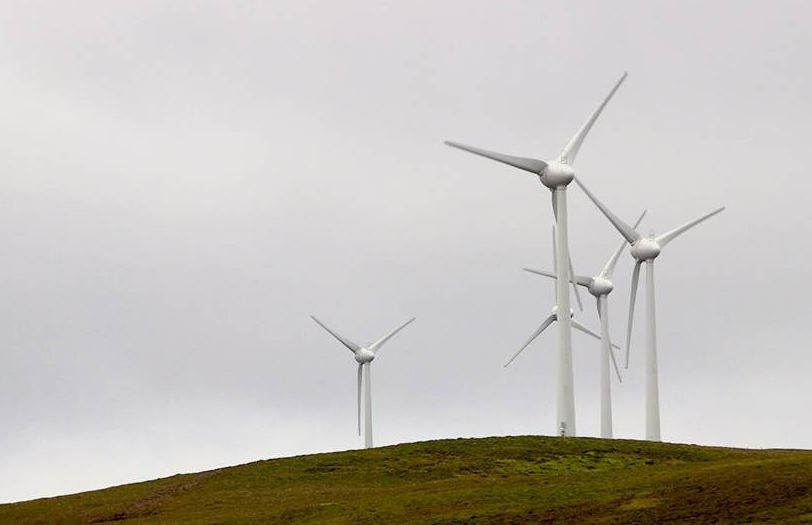 The idea of turning surplus energy from a wind farm in Shetland into hydrogen to use for heating and transport is being explored – leading to hopes that it could kick start other local renewable operators into doing the same.
The plans, led by the Shetland Island Council's (SIC) carbon management team in conjunction with the North Yell Development Council, take inspiration from similar hydrogen schemes in Orkney and the Western Isles.
SIC carbon and energy officer Sean Haughey, who is at the forefront of the project, said hydrogen produced from the five-turbine, 4.5MW Garth wind farm on the island of Yell – which is run by the development council for the benefit of the community – could heat the Baltasound school in Unst five or six times over.
He added that at the moment the Garth windfarm would be the largest renewable hydrogen production project in the UK.
The process would involve taking 'curtailed' energy from wind farms, when there is not enough capacity in the network to take in any more power, and putting it through electrolyser to turn water into hydrogen and oxygen.
Haughey said the cost of producing hydrogen comes out "very favourably" compared to other forms of energy, and it is anticipated that a forthcoming islands deal – which could bring millions of government funding to the north and west of Scotland – will seek to support this growing industry.
"I think one thing we'd be looking to hopefully do is to kick start other places in Shetland to look at hydrogen. We've already had a few wind operators or people with turbines being interested in hydrogen because they're seeing what's going on in Orkney."
The hydrogen projects in Orkney received a large amount of funding due to their novel nature, and council staff in Shetland do not want the isles to slip behind any further.
"Shetland is quite far behind Orkney, but also in the Western Isles you've got a lot of folk into hydrogen, so Shetland has been a bit slow to get the ball rolling with hydrogen," Haughey said.
"It is cheaper than heating oil, and if you think the council has 15 major heating systems needing replaced in the next five years, there's a market for it there," carbon management team leader Mary Lisk added.
"There's already hydrogen buses in Aberdeen, Fife and Dundee, and they're grant funded through the UK government. So if we need buses replaced, you could potentially start looking at hydrogen buses.
"Looking at our own internal ferries, if we could reduce the cost of them by producing local fuel from constrained wind – it's a win win. It's definitely an area which is going to expand, and probably quite rapidly."
Hydrogen produced locally in Shetland could also save the oil and gas industry, which uses it in some of its chemical processes, from having to ship it up from south.
But it is not just hydrogen that could be of worth. The other by-product of electrolysis, oxygen, is used by the local aquaculture industry.
"We looked at using oxygen, and although it wasn't seen to be financially viable down in Orkney, there's a lot of fishing farming aquaculture in Shetland that ships up a lot of oxygen," Haughey explained.
Large wind farms proposed to be built in Shetland like the 103-turbine Viking Energy development, which need an interconnector cable to export energy to the Scottish mainland, could also technically produce hydrogen.
But while "constraint is not going to go away from Shetland", the larger turbines will "likely get first dibs on space on the interconnector" – meaning there is less prospect of them being curtailed.
For the North Yell Development Council, having the council in tow has enabled the community group to take the proposal further than just an improbable idea.
"We are enthusiastic about the prospect of a hydrogen making project," director Andrew Nisbet said.
"We are also enthusiastic about working with the SIC on this as we need a partner. As a small community group we do not have the capacity to undertake this ourselves.
"The constraint represents a loss of potential earnings for our community, although the wind farm is viable even with the constraint. Hydrogen is a promising alternative as a fuel for road vehicles and also as a marine fuel."
Recommended for you
X

Offshore crew get into the Xmas spirit with K-pop 'music video'