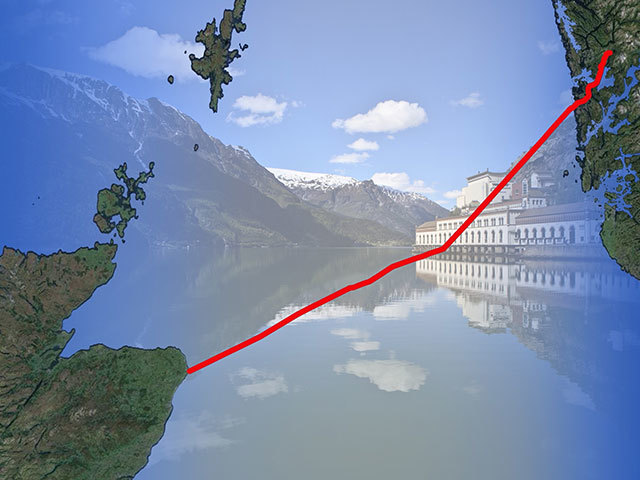 A giant supercable linking a north-east town with Norway has been approved by Aberdeenshire Council.
The North Connect transmission link will see the renewable energy markets of Scotland and Norway trade energy will connect a converter station at Stirling Hill, Boddam to an offshore transmission cable across the North Sea.
Developers plans were accepted to lay a 415-mile cable from Peterhead to the Norwegian west coast, due to begin in 2023.
The electricity superhighway was "unanimously approved" by almost a full council today, a project insider said.
Owned by Vattenfall, Agder Energi, Lyse and E-CO Energi, the interconnector is licensed to carry 1.4 gigawatts (GW) of capacity between the two countries.
Richard Blanchfield, the NorthConnect permitting manager in the UK, said: "I am delighted that the North Connect project has passed another significant milestone on its journey to becoming a reality.
"The cables will be able to transport energy in both directions, monitor and respond instantaneously to meet the demands of either energy market and, crucially, be able to be called upon in the event of a 'black start' situation, ensuring our lights stay on."
"NorthConnect is looking towards operation in 2023/24 and now the only piece of the UK planning and licencing jigsaw left is the Marine Licence, which we expect a decision on in the coming months."
According to plans released in September, the project would create up to 600 jobs during the construction phase, with more than half of those lasting more than 18 months.
The HVDC cable route will feed into the converter station on a site at Fourfields, west of Stirling Hill quarry.
The building, which was consented in 2015, will house the components required to convert electricity from direct to alternating current and vice versa to allow connection on to the National Grid.
Plans for the entire development are estimated to be £1.5 billion, with a significant proportion of that money going to Norway.
Last year year, a Norwegian independent stakeholder said the NorthConnect project could net the country a £1.2bn social economic surplus.
Recommended for you
X

Demise of nuclear plant plans 'devastating' to Welsh economy, MP claims