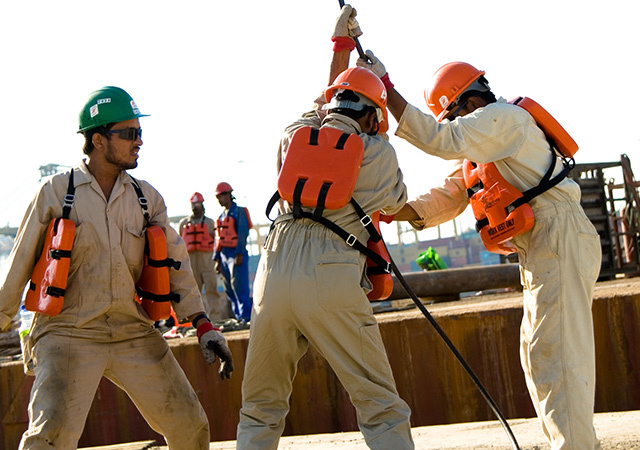 A United Arab Emirates-based firm brought in by Moray East Offshore Windfarm has posted multi-million losses in 2018.
Wind turbine jacket manufacturer Lamprell today announced a net loss of more than £56 million.
The UAE firm was recently handed a £160m fabrication contract for the huge wind project based in the Moray Firth.
The deal, which will see the firm construct 45 wind turbine jackets and three additional offshore substation jackets, was selected by Moray East appointed company GeoSea.
The 45 turbines are almost half the 100 turbines required for the project.
Alongside the Moray East contract, Lamprell celebrated a substantial deal to build two jackup drilling units in Saudi Arabia.
Christopher McDonald, chief executive officer said: "Despite the challenges of the market environment in 2018, we have delivered against the objectives that we set out earlier in the year.
"We finished the year with a major renewables project added to our order book and two new build jack-up rigs committed for construction at Lamprell's yards in the UAE.
"The quality and size of our bid pipeline is improving and we look forward to adding further significant projects as part of Saudi Aramco's LTA programme during the course of the year.
"Given the ongoing uncertainty in the industry, this reconfirms our confidence that Lamprell's strategy will deliver growth for the business from 2019 onwards."
Lamprell said its current cash position reflected the ongoing impact in its yards, its rig kit inventory and "general working capital requirements".
But it added that this position does not reflect down payments on major new projects won by the firm.
Granted consent in 2014, the Moray East Offshore Windfarm will be built in agreement by developers EDP Renewables, Diamond Generating Europe and Engie.
The development, due to begin construction in 2021, is expected to power more than 950,00 homes.
Recommended for you
X

Solar outperforms wind on global scale, Fitch says